A Significant POS System can help Small Retailers to overcome the hurdle of Digitalization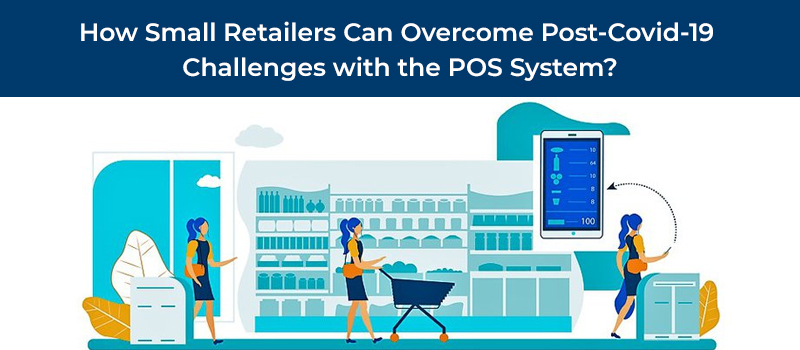 When the COVID-19 pandemic started, the sector which was greatly impacted by it was the SMEs. To be more specific, the retail sector got hit the worst. Inefficiencies, visibility, profitability, and liquidity issues surfaced for SMEs when a sudden lockdown was announced country-wide. It took a while, but everyone began to realize that the answer to addressing these issues is a sophisticated, automated, and agile digital solution. It means digitizing and automating all the core functions of a retail business, such as inventory management, billing, cash-flow management, transactions, banking, tax etc. – with a single application.
Compared to the years before 2020, the business complexities and working have changed to a great extent in 2020. Not only big businesses, but the small businesses are also dealing with a wider range of product categories, different types of customers, e-commerce platforms, multiple payment modes etc.. The old-age term "Udhari" is no longer to be found in a small retail shop. And managing all these things within a single platform might sound like a dream for some of you. But that's where an efficient POS system comes in. The POS system by Logic ERP works as the face of your retail business that captures all your business data.
Here are some of the benefits of using the Point Of Sale system that will help your business grow in this pandemic and the future:
EASY TO INSTALL
Every retail shop has its specific needs and specialties. With the customizable solution by Logic ERP, you can easily tailor POS systems to suit the uniqueness of your business. Whether you run a food outlet, pharma retail, or an apparel shop, a POS system can be easily synchronized based on the specific needs of small businesses. It will generate customizable reports that you can use to grow your sales.
A COST-SAVING DEAL
If you invest today in a POS system, you can enjoy better profitability tomorrow. No matter how much you make in your business, if you don't know whether your profits are increasing or decreasing by the year, there's no point in it. Saving even 10% can have a significant impact on your business. Investing a small amount in a POS system will prove to be a cost-saving deal for you in the long-run.
DATA MANAGEMENT IS THE KEY
POS system captures different types of data in terms of customer details, sales, purchase, payment terms & modes, ratings given by customers to the staff and business, agent sales data, employee data, and much more. By capturing this data, you can analyze your customer and supplier behavior, think of the product line, most preferable payment modes, the customer segment etc. It, in turn, will benefit your business profitability.
SPEED-UP PAYMENT PROCESS
The touchless POS system by Logic ERP gives you the ability to speed up your checkout process by digitizing payment collection methods. You can run multiple billing screens and collect online payments from your customers via debit/credit card, UPI, QR scanning etc… It is a must-have feature for retail business owners if they want to run the business smoothly in the age of digitalization. It also allows you to understand your customer behavior and design promos, offers, discounts and schemes for them.
HELP IN LIQUIDITY MANAGEMENT
One of the biggest pain points in handling business is liquidity, which became more difficult to source when the COVID-19 pandemic started. Those who were still stuck in traditional ways of handling assets faced some sort of difficulties in availing funds. If only they had a reliable POS system to maintain proper business data at that time. But it's not too late. You can prevent such mishappenings from occurring in the future by availing touchless POS system by Logic ERP.
CUSTOMIZABLE & HASSLE-FREE REPORTING
Business reporting is one of the key-assets that helps a business to grow. For SMEs, to grow their business further, they need to connect their key operations such as sales, purchase, finance, inventory, marketing, and finance in one place to increase efficiency. With Logic ERP POS system, you get a set of customizable reporting that answers your business queries.
UNDERSTANDING CUSTOMER BEHAVIOR
In a retail business, there is massive data related to customers. And the Point of Sale system bridges the gap between customer relationship management and customer engagement. You can easily find records of single or multiple customers related to their purchase history, discount offers they availed in the past etc… With a POS system, you can understand your potential customer segment and create discounts, offers, promos and gift vouchers to reel them in.
There are plenty of options available in the market, but choosing the right product for the business is what might confuse you. The industry-specific, touchless, and reliable POS software solution by Logic ERP will enable you to overcome the hurdles you may or might face in this digital age. Remember, the market, business standards, and customer behavior are changing day-by-day. You can't rely on the traditional way of doing things. It's time to take a step further to move along with the market. And Logic ERP can surely help you with it.