How Logic ERP Delivers Innovation, Scalability & Security with ERP Modernization?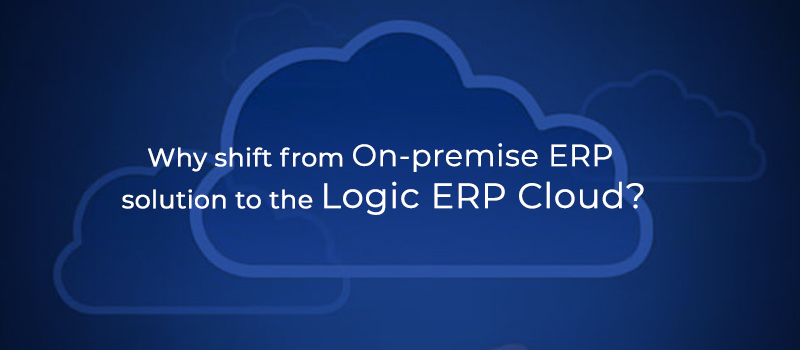 The ERP software technology came a long way since its invention in 1960. At that time, big firms use it as inventory management and quality control system. But now, no matter what task it is, small-medium and large enterprises use ERP software to handle their complete business operations. An ERP system is necessary for building a cognitive business that utilizes real-time information to enhance collaboration, response time, and operational efficiency. Whether it's accounting, inventory, payroll, distribution, payments, and production, an ERP can run all critical business operations with ease.
The technologies are evolving at a rapid pace. Machine learning, chatbots, AI, automation, etc., are changing the structure of business models. The Logic ERP software solution will ensure accuracy and high speed while managing large data sets and users. And due to this, more and more business leaders are adopting ERP modernization.
How to identify the right time for ERP Modernization?
The ERP software modernization will have a good impact on your business growth. Although you can't identify the right time to upgrade your ERP software, you can analyze the changes occurring in your organizational practices that your current legacy system is unable to manage. It will let you know that now is the right time to shift to the modern business management system.
No matter what industry you deal in, if you are facing the following restrictions, then there are high chances that you need modern Logic ERP cloud-based system:
Business reporting has become outdated and challenging because of ERP limitations.

Difficulty in handling rapidly growing data, users, and business demands.

Rise in dissatisfaction level among employees as they find it difficult to retrieve or enter data in the ERP system.

The system is unable to follow changes in compliance regulations, business processes, and market demands.

Rise in the IT resource costs because of the frequent maintenance of ERP software.

No proper integration between departments leading to conflicting data that restrain your business growth.

A large investment in hardware is required to upgrade the ERP system.
How Logic ERP Cloud helps in Business Modernization?
The advancements in technologies and the rapidly changing business environment made companies think about ERP modernization. The Logic ERP cloud-based business applications modernize your work culture in multiple ways:
Low Infrastructure Cost & Better Scalability
With cloud-based ERP software, you don't have to spend a large amount of money on IT resources and hardware. You have to pay the monthly or annual subscription for the amount of ERP services you acquired from the vendor. It will ensure that the systems run smoothly without any breakdowns. All you need is a good internet connection and a system that supports cloud ERP services.
Unlike your on-premise solution, Logic ERP cloud enables you to select the services based on your business requirements, which you can scale up or down later on. With better scalability, you can depend on the system as it can evolve as your business grows.
High-Security Level
Logic ERP cloud software offers secured and easy access to the data, which is one of the reasons for modernization. In the data-driven business world, you need a reliable system that protects your data from any vulnerability. The cloud-based business solution by Logic ERP offers multilayered security that enables you to define user-specific authorization. It ensures that only the authorized person will have access to the particular information. Also, you can keep track of the business activities in real-time to prevent data breaches or unauthorized access.
Integration & Innovations
Good technology can evolve based on the market demand or what's trending in the market. Businesses using advanced technologies like contactless payments, e-Commerce, chatbots, etc. to improve their customer base and profit value. They require a solution that enables them to integrate all operations in a single platform. The Logic ERP cloud application facilitates this and offers flexibility to include more functionalities as your business grows.
With Logic ERP cloud-based business solutions and mobile applications, you lay a foundation for your business success and growth. The customizable ERP solution is designed to improve profitability and enhance the operational efficiency of your business. Contact us now to learn how to move our on-premise system to the Logic ERP cloud.