7 Fundamental Benefits of ERP in Retail Industry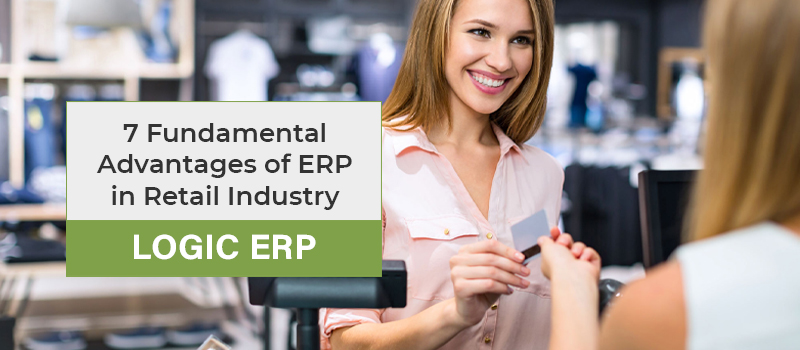 Retail is now one of the world's fastest-growing industries. However, as the industry expands, so do the management challenges. The retail sector is made up of a number of sub-sectors, each of which must be managed effectively in order to sustain or maximize income. Fortunately, in the retail industry, retail ERP software may be the answer.
In recent years, the Enterprise Resource Planning (ERP) tool has grown in popularity across the entire industrial sector, and for good reason. The tool enables you to handle your organization's resources with ease and simplicity. Is this, however, the only reason to invest in an ERP system? That's not the case. The following are some of the benefits of using the retail ERP system in the retail industry:
The entire retail industry revolves around sales. In every retail sector, the majority of decisions are made to increase revenue. ERP has features that can assist you with this. ERP mostly helps you to analyze consumer dynamics and past revenues. It provides insight into which products have been successful and which have not, allowing you to determine which products to promote and which to discard. The different aspects of sales, such as discounts, pricing, and exclusive deals, can all be enhanced with ERP.
In today's retail sector, no one can doubt the value of e-commerce. Some may argue that e-commerce has become the face of the retail industry as a whole. In either case, e-commerce is critical for retail, which is why many ERP software packages now provide e-commerce integration. E-commerce integration, like point-of-sale devices, gives the ERP tool real-time transaction data. This information can then be used to control inventory, forecast demand, and so on.
Although the point-of-sale (POS) system is relatively new in comparison to conventional sales methods that use retail software, it has become increasingly important in the retail industry. POS machines are essentially a device that monitors the transactions that take place in every retail establishment. The fact that a POS computer automatically feeds transaction information into the system eliminates the need for extra effort and reduces the risk of human error. Real-time data is a major reason why ERP tools are now integrated with POS machines (both software and hardware). Simply put, ERP extends the benefits of point-of-sale machines a step further: all transactional data is automatically mirrored not only in retail outlets but also in the central ERP tool.
The retail industry is largely made up of fast-moving consumer goods (FMCG), which makes demand extremely unpredictable and competitive. In retail, inventory management is a critical issue because both excess inventory and a failure to satisfy demand will result in financial losses. ERP recognizes the value of inventory management and includes it as a standard function. It saves information about your entire inventory, including product specifics. This means that you know exactly what you have in stock and which things are about to run out. It also monitors shelf life and alerts users when a product is about to expire.
ERP also has the capability of making demand forecasts. It can be predicted whether future demand will grow or fall by looking at past patterns and consumer preferences. It gives you a competitive advantage by allowing you to adjust your inventory to meet demand.
Managing employees is, of course, the primary benefit of using ERP in the retail industry. The retail industry, in particular, operates across retail outlets that are dispersed across the globe. As a result, in addition to the normal difficulties of handling a large number of employees in every sector, the geographical limitations make it much more complicated. Via an automated framework, ERP makes workforce management easier. Most ERP vendors provide mobile solutions as part of their ERP packages, making employee management easier. With the help of cloud retail software, the ERP system stores essential employee information, as well as real-time information such as shift timings, work hours, and so on.
Customers are everything in retail, as everyone who works in the industry knows. Brand loyalty is like a sandcastle on the beach, and losing customers is always a threat. Customer management and retention could be supported by ERP in the retail industry. ERP is based on data; data that, when analyzed, can be extremely useful. For example, you can sort customers' purchase histories and reward the most successful ones. Customer history also provides insight into customer preferences, allowing you to tailor promotions and deals to their specific needs.
ERP assists you with resolving consumer complaints in a timely manner, in addition to marketing and sales. Overall, ERP gives you a unified view of all your customers and makes it available to all relevant departments within your business.
The importance of knowledge in business operations cannot be overstated. However, as the company grows, it becomes more difficult to synchronize data across all departments. So, what are the potential drawbacks? For instance, a price adjustment might not have been replicated evenly in all units, allowing others to profit from the discrepancy. It's also possible that inaccurate documents are used when rectifications aren't properly represented. The most serious flaw is the time it takes for knowledge to spread, which causes delays in overall operations and a lack of productivity.
However, ERP will help with the majority of these issues. It's important to remember that the ERP system runs on data and knowledge. To put it another way, ERP runs on details. The tool searches out and distributes real-time data to all related units, eliminating the possibility of delay or error.
Conclusion:
ERP is unavoidable in the retail industry, particularly given today's fierce competition. The multiple benefits of ERP in the retail industry, the majority of which we discussed above, can only help you gain a competitive advantage.