Why Should FMCG Companies Implement Distributor Management System Software?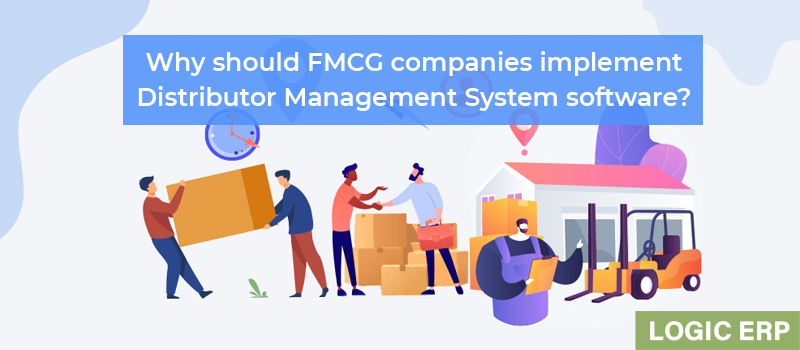 There are various milestones in the process from being a raw material to being the ultimate desired product; reaching out to clients and satisfactorily gratifying them. The distributor management system software from Logic ERP is the solution that takes care of all of these basic procedures by reducing additional costs, speeding up delivery, and finally showing a profit with its application by maintaining tight control over these intermediary operations.
The distributor management framework system is essential these days for dealing with the supply chain network and meeting client demand. It oversees the supply chain stages involved in the appropriation of finished goods. Assembly, packaging, inventory, warehousing, and transportation offices are all included in the process.
It also aids in promotion management, productivity enhancement and sales process automation. Simply said, it's the driving force behind all of your sales and distribution efforts. While there are almost probably no limits to the reasons and benefits of using Distributor Management System Software(DMSS), we have created a list of a few.
Visibility in real-time
Previously, FMCG businesses relied on offline information provided by distributors regularly, which was neither real-time nor accurate. However, you should not ignore some crucial data, such as current stock available from distributors, orders awaiting fulfilment, requests returned by retailers, and so on. Companies can have complete visibility of secondary sales execution in real-time with the help of DMSS in this situation.
Assessing the situation in a remote location
Today, FMCG companies are tying their distribution networks together to begin faster item channelization from the factory to the store. It's tough to receive clarity on your item development from all of your distributors due to challenges such as high volume, time management, and the distributor's remote geographic location. Regardless of whether a distributor works in the city or a semi-rural area, you can acquire all the information you need with distributor management system software set up.
A big boon for your distributors
DMSS has shown to be highly beneficial in streamlining and automating many of distributors' regular activities. Automation of all types of products movement, system-generated invoicing, payment data, and intelligent alerts are just a few examples of how a DMSS may make a distributor's life easier.
A faster resolution of claims
Another advantage of Logic ERP Distributor Management System Software is the ability to quickly resolve claims. With DMSS, distributors and the organization will always have a clear understanding of the deliverables and payables. Furthermore, all claims will be resolved much faster with online claim accommodation through DMSS. Furthermore, all claims will be finished much faster with online claim accommodation through (DMSS) than with a manual framework, which normally involves multiple rounds of modifications between both parties.
Better control over trade promotion and schemes
Promotion and schemes are two of the most important foundations for an FMCG firm. These efforts frequently cost a lot of money for businesses. Distributor management system software guarantees that all necessary checks and balances are in place at the time of invoicing, as well as providing you with a detailed analysis of each scheme's performance.
Increased stock renewal speed
FMCG companies must maintain optimal stock levels at numerous touchpoints, such as stockists, distributors, and retailers. The Distributor system in Logic ERP provides you with accurate information on stock, expiration dates, group numbers, returns, and more. Significant changes can be received considerably ahead of time at distributor sites, and replacement can be provided much sooner than in the past.
Production planning that works
Ideally, the demand arranging module of your ERP should be coupled with your distributor management system software (DMSS) programming. After that, your ERP's production scheduling engine will have clear data on real-time stock levels as well as pending requests for fulfilment at your distributor centers. This ensures improved production planning and, as a result, less wasting of your production assets.
Standardization of Procedures
Finally, by implementing a single system for all distributors, you can ensure that all of your desired distribution processes are standardized. Most importantly, because all parties involved are referring to the same system, there will be only one version of the truth, eliminating unnecessary back and forth in the event of a conflict.
Why Should You prefer Logic ERP to Manage Your Distribution?
You can achieve high performance in even the most fast-paced and fragmented marketplace if you use the correct software platform to power your sales and distribution activities. That's where the Logic ERP DMS (Distributor Management System) enters the picture. Logic ERP distributor management system, which is designed for organizations in emerging and developing countries, gives you total visibility over your secondary sales or stock at your distributor's end. Distributors can handle the whole sales cycle from opportunity through sales order processing at the office, on the road, or from a home office using cloud access and the mobile application framework.
At the end
Everyone believes that time is money, and a clever distribution management system may help you save both. This is a solution that may help you control your entire sales channel in a systematic approach.
The more you sell, the more profit you make, implying a brighter future for the company. To boost market competitiveness, develop a super-efficient sales and delivery channel, and boost stakeholder comfort in doing business with you, organizations need a powerful distribution management system like Logic ERP.