Why Footwear Retail POS ERP is Important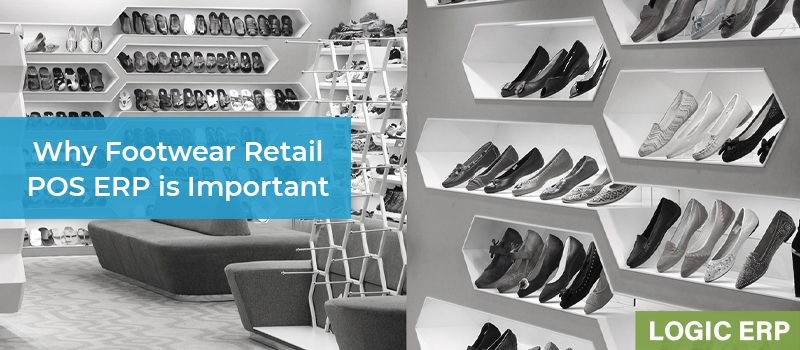 Maslow's Hierarchy of Needs theory, published in 1943, states that clothing and footwear are among a person's most fundamental needs. Jumping forward to 2021, apparel and footwear retail is now one of the world's major retail categories. Yes, it is a basic requirement for many, but luxury retail firms that provide high-end products are hinting at something more. The Point-of-Sale solution used by the footwear and clothing industries has a substantial impact on their success. Here are some of the reasons why we believe strong apparel and footwear retail POS is critical:
Express Checkout: After spending so much time deciding what to buy, it's only natural that the buyer will have very little energy left for the checkout process. It's essential to have an apparel and footwear software billing system that can handle billing swiftly and efficiently. Accepting any form of payment, having a rapid scanner, and being able to generate bills quickly, in no time. Customer retention becomes an easier job when a store doesn't waste precious time in figuring out the checkout process and bill generation.
Understand your goods: With the variety of stock that footwear and apparel companies must maintain, it's critical that you know your products inside and out. Quality, sizes, color, material, supplier, purchase amounts, brands, min and max stock limitations, and other information can be found on a retail POS for footwear and apparel. This makes the process of bill generation a lot easier, just with a few taps on the screen.
Stay Ahead of the Game When Making Decisions: By providing sales reports, a good apparel and footwear POS helps you gain a deeper knowledge of your organization. This, together with reports on which items performed better, which did not perform as predicted, which days were good for business, and so on, can immediately assist you in determining your next step. It also keeps track of your inventory for you, so you're never in the dark about what you have on hand. In order to grow the business, having a POS ERP system will help you in the long run, too.
Manage Discounts and Offers with Ease: Customer retention is critical to the success of any organization. It all comes down to running discounts and loyalty programs. These discount offers can be quickly started and updated using the promotions engines included in the footwear retail POS.
Multiple Stores, Multiple Checkouts: You can effortlessly manage your multiple stores from a single dashboard. On the clothes and footwear POS system, you can also manage inventory, sales totals, and so on.
Buy online, ship from store: With COVID's growing emphasis on e-commerce, it's more important than ever to fulfill orders from your physical locations, or you risk missing out on valuable sales chances. Omni-channel retail has been shown to increase sell-through rates by 20 percent or more. To accomplish this, the apparel and footwear POS must be linked to online sales channels and inventory must be updated on those channels. Having a centralized POS ERP system for online as well as in-store purchases is beneficial in every way.
Logic ERP Footwear Software aids in the rapid expansion of your firm. Logic ERP Cloud-based & On-Premises AFS Solution is being used by an increasing number of Fashion & Footwear companies to increase revenue, lower costs, improve product quality, and stabilize growth. It is now one of the most popular footwear and garment retail and wholesale software solutions. With a simple to use, understandable user interface, innovative design that offers a plethora of features, easy to integrate, configure, and reliable ERP software that allows you to manage the entire manufacturing process, reporting tools, flexible dashboards, performance analytics, and production tracking tools, you can manage the entire manufacturing process. Logic ERP does a lot more to help you streamline all of your business operations and make better decisions so you can be profitable even when margins are low.
You can execute multiple billing, keep track of apparel inventory, and accept online payments for customer orders using the best-in-industry retail software. Not only that, but the apparel inventory management system's interface with POS software allowed you to keep real-time track of stock levels. Logic ERP footwear and garment POS software help you to streamline the sales process at your apparel store and manage your customers' order and payment details seamlessly. Logic ERP cloud-based and on-premises retail software enables integration and communication amongst many departments in the clothing and footwear business.
Wrapping It Up
Because of the aforementioned reasons, as well as changing retail technology, a good POS for footwear and apparel retailers is a must. Modern retail technology has demonstrated that brick-and-mortar stores and internet marketplaces can coexist. As a highly competitive industry, footwear and apparel merchants need to be well prepared for any obstacles that modernization may bring. Logic ERP provides solutions for businesses to adapt to faster, more efficient sales processes.