Benefits of ERP System in Inventory Visibility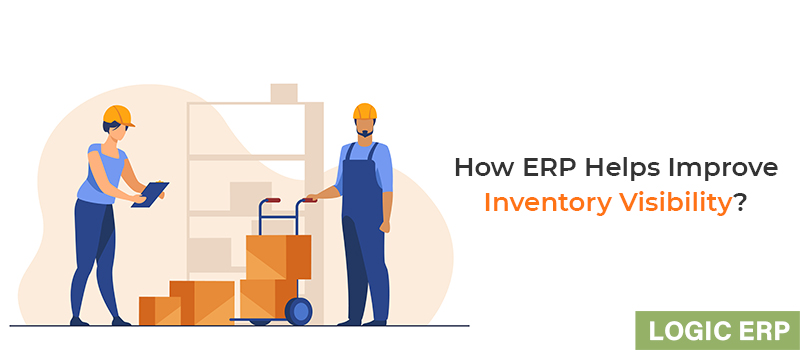 To build your products as a custom manufacturer, you'll need a number of various parts and pieces. Furthermore, as a small firm, you may not have the funds or the room to purchase significant quantities of raw materials in advance. Inventory management is one of the most difficult difficulties facing small and mid-sized custom manufacturers, and getting it right may make or destroy your company. Investing in a robust inventory management system and following best practices will help you keep your inventory under control and guarantee that you have the correct parts, in the right quantity, on hand to prevent production bottlenecks, complete jobs, and ship orders on time to have happy customers.
In today's business climate, having easy access to the correct information at every step of the supply chain from raw materials to shipping is crucial. Integrated supply chain management solutions increase operational efficiency and enable improved decision-making. In a manufacturing company, your ERP system is critical since it combines data and processes from all departments. In this article, we'll learn about Inventory Visibility and how Logic ERP has set its standards by providing state-of-the-art ERP Software Systems.
What is Inventory Visibility?
For a moment, let's go back to the beginning and define Inventory Visibility. Simply said, inventory visibility relates to knowing how much inventory you have and where it is at any given time. While inventory visibility has always been crucial in retail, it has become much more so as many businesses have transitioned to omnichannel order fulfillment and distribution strategy. Today's product delivery operations may have inventory in a variety of places throughout the distribution network – in the warehouse or DC, on trucks in transit, on store shelves or in the backroom, and so on—and it's critical to make sure that all of it is properly accounted for and reflected in the stock ledger. In a nutshell, inventory visibility ensures that internal inventory records mirror reality. This enables more accurate stock information, order monitoring and tracking, and other features.
Consumer expectations are at an all-time high, thanks to an ever-growing array of IoT-enabled gadgets from which to browse, study, and purchase retail items – expectations that generally involve rapid service and a smooth customer experience. Improving your company's omnichannel fulfillment performance, starting with inventory visibility, is the key to achieving and surpassing these expectations. Inventory visibility with Logic ERP services throughout the supply chain has a number of advantages:
Forecasting with more precision

Resource allocation that is more intelligent

Increased productivity

Stock levels have been reduced.

Demand fulfillment has increased.

Greater openness in the supply chain
Benefits of ERP Systems in Inventory Visibility
Procurement should be a profit-generating component
To achieve lower costs and a better bottom line, your procurement operations should be matched against demand. Smart and integrated solutions improve profitability by providing comprehensive visibility, control, and efficiency in crucial elements such as vendor-controlled inventories, quote information, and payments.
Maintain a good inventory management system
Inventory management assist manufacturing companies measure demand and maintain supply. This keeps you from losing a lot of money on merchandise that isn't used or that you bought too much of. ERP systems provide visibility into market demand, supply information, and specific product data, allowing for appropriate inventory levels to be maintained.
Improve demand forecasting and planning
Having insight into the proper information for production, manufacturing, and supply divisions to be more efficient, resulting in satisfied customers, cannot be overestimated. ERP systems may provide users with a single picture of multiple demand sources, allowing them to get comprehensive visibility into demand.
Streamline the manufacturing process
The supply chain is heavily reliant on production. Visibility into the manufacturing process would mean being able to better manage resources, automate operations, and boost output. Timely delivery and customer satisfaction would also benefit from streamlining manufacturing. Manufacturing companies would benefit from ERP optimization since it would allow them to manufacture more products.
Wrapping It Up
Efficiency means cost savings, as any business owner understands. Using Logic ERP Software Systems for inventory management to handle many various areas of your organization, rather than paying for separate systems to handle different sections of your business, reduces overall effort and minimizes expenditures. More jobs out the door are also a result of better inventory management. So, if you wanted to assure supply chain visibility, how would an ERP optimization strategy look like? The first stage should be analyzed. Analyze the pain spots of your manufacturing firm, whether you're installing an ERP system for the first time or trying to improve an existing ERP system.
Get a complete picture of your business systems' features, functionalities, and alignment with your existing and future business processes. Second, figure out what needs to be improved and prioritize it. After that, put in place a remedy that will close the gap. For improved business growth, Logic ERP, a well-known ERP software system supplier for all types of organizations, efficiently balances inventory management and sales orders. Keep in mind that ERP optimization is a never-ending activity. Therefore, keep optimizing!