Reasons to Move to Cloud ERP Software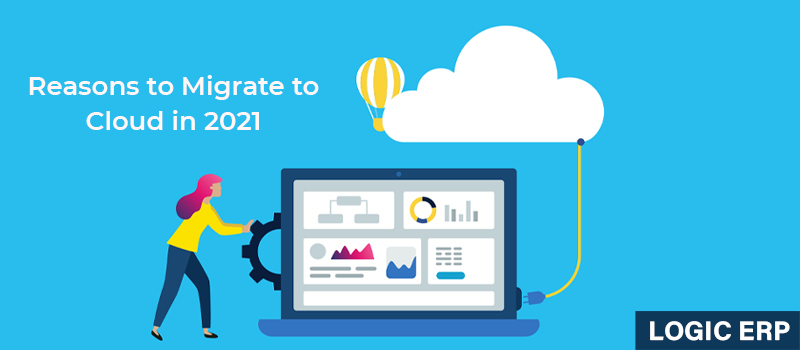 The COVID-19 pandemic drew attention to what technology could do. According to IDC, over 65% of businesses have increased their digital activities. According to recent studies, businesses are confident about growth in 2021 and beyond. However, as firms navigate the post-COVID environment and analyze development prospects, many are evaluating technologies that are new to them, such as cloud computing. Let's be honest. There is a lot of competition. Smaller firms have always been unable to use the cloud computing technologies utilized by larger corporations. Only corporate giants could afford to invest in IT infrastructure in the past. However, the cloud really levels the playing field by allowing businesses of any size to store data in a distant data center rather than on-premise. With Logic ERP Cloud computing services, your business can perform large-scale operations at a reduced cost while maintaining high service quality. Cloud-hosted desktops, in reality, may help your company and IT become leaner, quicker, safer, and more productive. But, before we get into the top reasons, let's take a step back and go through the fundamental principles in greater depth.
What is Cloud Computing and how does it work?
Instead of storing and accessing data and applications on your hard drive, cloud computing stores and accesses them via the Internet. Cloud computing may be done from any location with an internet connection. A cloud-hosted virtual desktop replaces your existing environment (which resides on or underneath your desk) with a virtual computer that is securely stored in the cloud. Virtual desktops hosted in the cloud are an excellent method for company owners to save money, time, and effort on a daily basis.
Each cloud PC is hosted on a server dedicated to your business in a secure data center. In certain circumstances, you'll also get a fully managed, secure, and well-maintained working environment, as well as access to IT Support for all of your company's users, regardless of their location. The experience is similar to that of a local machine, but it is quicker, more secure, and more dependable. Let's cut to the chase and learn why you should transition your business to the cloud with the help of Logic ERP.
Security: Security concerns were perhaps the weakest link in the early days of cloud usage. However, more individuals are realizing that these fears are unfounded. Cloud IT service providers, on the other hand, provide better degrees of data security and integrity. Why? Because they spend much in money and technology, as well as a professional staff of IT specialists and engineers, which smaller firms just cannot afford. Logic ERP does not compromise when it comes to cybersecurity.
Reduced IT Costs: A Cloud Hosted Desktop gives you scalable processing capability while reducing IT needs and physical data storage, resulting in considerable cost savings.
Reduced Risk of Data Loss: Users get even greater protection by backing up their data offsite, reducing the risk of hackers, viruses, ransomware, and other cybersecurity issues. Let's just say 'more security', again.
Faster Deployment: Instead of the weeks, months, or years it may take to strategically design, acquire, build, and operate an internal IT infrastructure with internal people, cloud-based services can be implemented in only an hour or a few days.
Easier and Increased Collaboration: Cloud computing makes it simple for personnel in different places to collaborate. Cloud computing improves employee cooperation and productivity by allowing for simultaneous syncing, working, and sharing of documents and information in real-time.
Connectivity and Accessibility: With any time, anyplace access, users can stay connected no matter where they work. Users may access files from any device, at any time. As a result, there is no longer any chance of files being saved on any machine.
Improved Efficiency: You won't have to worry about power needs, space constraints, pricey computer gear, or software upgrades after shifting to the cloud. You can keep your entire organization focused on sales and connections rather than IT.
Acceleration of Growth by enabling Digital Transformation: Many businesses are undergoing digital transformations in order to extract more value from their existing assets. Leaders can digitize more essential operations, including CRM, SAP, data analytics, and more, thanks to recent developments in cloud computing. When compared to their counterparts, those who transition away from outdated technology may enhance the productivity of their workforces, innovate, and generate new income streams. The options are almost limitless once you're in the cloud.
Wrapping It Up
For success, you'll need a well-defined strategy with clear goals and a plan for how your company will get there. Another important success aspect for nearly all businesses is ensuring that they have the proper IT plan in place and Logic ERP is the one to look up to for robust IT services. Another significant shift is that the world has rushed toward digital, and cloud computing has become the norm, similar to the acceleration of e-commerce and working from home. Businesses that use on-premises solutions should seriously consider moving to the cloud erp software to gain benefits such as automation, scalability for growth, improved security to mitigate threats, agility to respond to changing customer needs, and the ability to quickly adopt new innovations to stay ahead of the competition. Furthermore, the cloud may help you gather, integrate, and analyze data sources in order to get new insights and find growth possibilities.