Benefits of POS Billing Software in Garment Business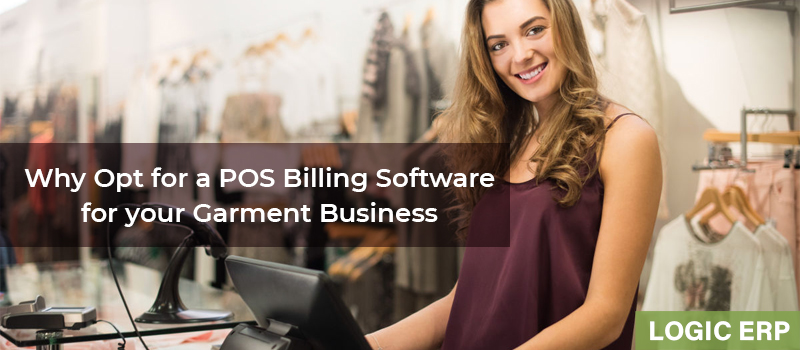 The garment and clothing industry is a volatile industry. People may not buy other items or commodities on a regular basis, but they do buy clothing more frequently. The demand for certain types of clothing fluctuates with the seasons, ensuring a continuous flow of items from the manufacturer to the customer. With the growth of the garment industry, there is a pressing need to automate traditional invoicing processes. With the growth of technology, owning billing software becomes important in order to keep track of accounts and inventory more efficiently and reliably. Logic ERP delivers textile shop billing software that is dependable, efficient, secure and user-friendly.
GST included invoice production, inventory maintenance system, data rectification, stock management, stock movement, daily sales, customizable sales invoice, customer management, and analytical report are among the features of the Billing Software designed specifically for clothing shops. The billing software has a highly user-friendly design, so even a beginner can quickly learn how to use it. It is extremely customizable and may be adapted to the needs of the user. With such a wide range of features and functions, it will undoubtedly revolutionize the traditional billing technique and streamline your billing process while also taking care of other related duties like inventory management, customized invoice creation, and much more. Logic ERP Point of Sale software is a general-purpose, multitasking program for managing your clothing and other retail enterprises.
Benefits of POS Billing Software in Garment Business
Faster Billing: When there is so much to do, no customer wants to wait in line for lengthy periods of time. No matter how many products a consumer buys, POS software can take care of them in a couple of minutes. It also keeps your staff from being anxious, resulting in happy customers and employees.
Inventory Management: Because POS software keeps track of what comes in and out of your warehouse, you'll always know what's in stock. In this manner, you can replenish your inventory before it runs out.
Automate your business: Because you don't have to log in to each account to check for changes, POS software automates your retail operation. It changes your inventory level, sales reports, costs, and so on, saving you time and preventing you from having to update each department to ensure that everyone is on the same page.
Customer Satisfaction: You're already there! With quicker billing and inventory management, customers do not have to wait in line for lengthy periods of time, and they will never be disappointed due to out-of-stock circumstances.
Time-saving: Because POS software automates your business, it saves you time. Rather than keeping a watch on departments or managing your retail shop, you may focus on a variety of other tasks. It bills quicker, allowing you to close more sales in less time. Time is money, and Garment Shop POS Software helps you to generate more money in less time by reducing the amount of time spent in your company process with its rapid billing and automation features.
Accessibility and Security: You might be on a vacation and yet keep up with your business, or you could have many locations but manage them all from one program rather than visiting each one on a regular basis. It offers better security to your finances and data than manual accounting and tally records. You can easily backup and secure all of your reports and data without having to deal with untidy papers.
Garments Shop software is concerned with the general aspects of a business, such as transaction recording, inventory monitoring, billing, barcode scanning, sales analysis, and personnel management. Inventory and consumer information management are also handled by POS software. A good supply is necessary for increasing sales and profitability. You must continue to update your clothes line in accordance with the most recent sales trends. This necessitates a thorough understanding of the sales pattern, which should be attainable with POS software. It stores information on the quantity of a particular item of clothing and maintains track of its supply in such a manner that it does not become overstocked and also coordinates renewal so that it does not get out of stock.
Wrapping It Up
Logic ERP POS offers a powerful billing architecture with capabilities that allow you to operate from many places. The billing framework involves printing receipts, retrieving client information, and searching the database for an existing customer. GSM-based customer messaging, order tracking, dispatch, delivery, payment method, offers, discounts, schemes and so on are all included in the Billing software. Logic ERP POS software for garment stores is a versatile and multitasking operational software that has been meticulously designed to meet the needs and demands of retail enterprises. It's simple, easy to use, and extremely resilient in the event of a network outage. It's high time all retail businesses acquire robust Billing Software to take their sales to new heights.