How ERP Redefines Businesses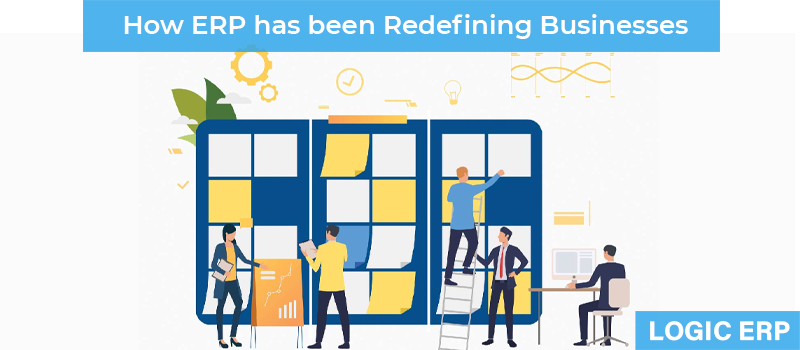 It's no secret that ERP features for manufacturing SMEs help firms address operational challenges on a whole new level, both big and little. Integrating an ERP system into your manufacturing operations may be a crucial strategy for lowering costs, improving production processes, and greatly enhancing the chances of your company's long-term growth and evolution. The majority of organizations are now prioritizing "going digital" and everything that implies. ERP systems, on the other hand, must continue to evolve in order to meet the ever-changing demands of organizations. As new generations of workers enter the workforce, ERP system popularity and, as a result, consumerization will certainly grow to fulfill their desire for systems that aren't based on outdated technology. Logic ERP continues to build and support outmoded user interfaces and also deliver user-friendly, intuitive functionality.
Digital Acceptance and Resilience
For many firms, the pandemic served as a wake-up call. There were epic failures for digital resisters — companies without a digital presence in the cloud, collaboration, and communication technologies. Company executives quickly recognized the relationship between technology and business processes. And that the timeliness, scalability, and resiliency of an organization's infrastructure, applications, and data resources were critical to its future revenue. Crises destroy bad companies, excellent firms survive them, and great companies improve as a result of them. This encapsulates how companies dealt with the epidemic. The resilient firms reacted to the interruption by restoring operations utilizing digital capabilities. The 'antifragile' ones employed technology to improve; it assisted them in gaining benefits from the stressors. Agility is defined as the capacity to respond swiftly and effectively to change. Agility-showing companies were able to swiftly adjust processes and personnel to suit organizational needs.
ERP redefines businesses
The world has seen Digital Transformation worth 2 years in 2 months. ERP systems, according to all analysts, must also evolve to assist businesses in the post-COVID new normal. Using the Internet cloud is one of the most important areas. Initially, the cloud's value proposition was "faster, cheaper, and easier," but organizations are now considering cloud ERP as an on-ramp to new technologies and business models. If you work in manufacturing, you already know how important it is to have efficient production and turnaround times. It's difficult to foresee how your company's operations will evolve over time. Transportation manufacturing ERP, like ERP for any other manufacturing business, must provide a consistent flow of top-tier parts. Flexibility is a crucial advantage in the face of continuously changing product configurations, suppliers, partners, and, of course, consumers. Users may establish new product categories, support new business processes, and receive auto-notifications when a product is ready to ship using Logic ERP. Your customers will react faster if your sales staff gathers information quickly.
Despite the industry's interest in cloud-based solutions, mobility will most likely be the key technical reality governing ERP features for manufacturing SMEs by 2021. Mobile applications are clearly the most effective method to adapt to real-time production changes. Users can deal with line problems on the spot with instant mobile access on the shop floor, minimizing wasted resources and commodities. Managers may check that operators are following production schedules and instructions, or issue maintenance orders, even if they are off-site. Supervisors have immediate access to product availability and the ability to alter work data. What better method to put a halt to a problem?
Beyond Voice Assistants
When it comes to future ERP system upgrades, AI is the buzzword. As time goes on, more and more companies are catching on. In our desire for hassle-free phone calls, dependable alarms, and successful searches, Siri and Alexa have gotten us a long way. However, AI-based technologies can help you become more efficient as a factory. Manufacturers will find an AI-based, voice-activated personal assistant helpful, since it will make it considerably simpler to make an informed choice based on thorough data analysis. Automatic analysis of shop floor data also aids in the streamlining of production by detecting issues or anomalies on the spot.
ERP performs magic with IoT
ERP can help to integrate key business operations, external data, IoT devices, and third-party apps to a new level. An IoT-enabled manufacturing ERP can connect and sync your office and shop floor with ease. There will be no looking back. API-enabled ERP systems can deliver real-time warnings and receive data from further down the manufacturing line. This better communication is appreciated by our trailer manufacturing customers. A system like this can also handle inventory control, sending data in real-time to the ERP backend and updating inventory balances and cost calculations to keep your figures correct.
Wrapping It Up
According to Gartner, ERP systems are shifting from being "Built to Last" to being "Built to Change." This will necessitate improved information availability, the ability to enrich the information with new insights, and the ability to modify and adapt more swiftly when choices are made. ERP system trends are very important in today's industry trends and requirements. Manufacturing SMEs need ERP capabilities that can link equipment, departments, partners, suppliers, and loyal customers in one flexible database. AI-powered ERP for transportation and other manufacturing industries will soon be capable of far more than just tracking every element of your organization. It will also go one step further and make recommendations for enhancing and optimizing at every level, thus becoming the operation's brains.