The Future of Retail: ERP Software Solutions to Help you Grow in 2022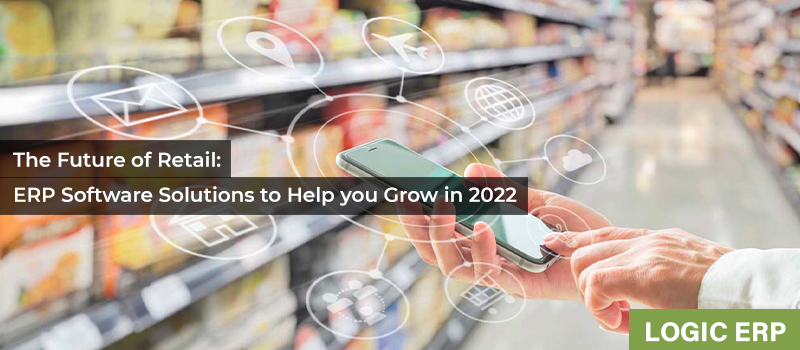 In the last two years, the retail scene has transformed more than it had ever before. The sector will be able to observe the modern landscape for the first time in 2022. Brands have become better equipped to make the real-time adjustments required to respond to unforeseen changes. Retailers are also starting to master multichannel experiences through the use of ERP software to help automate their accounting, human resources and financial planning processes. But, in terms of the retail industry, what can we anticipate shortly? Logic ERP has collected the top 10 retail trends that will emerge in 2022.
1. Brands have finally mastered multichannel experiences.
ERP software has become a foundation for any organization to automate their business processes that aspire to provide a seamless omnichannel experience. Many older firms were slow to modernize, while newer brands were primarily focused online. Over the years, Logic ERP has developed and deployed software systems that are scalable to support customer growth and business expansion. Pop-up stores and local fulfilment facilities are on the way to becoming commonplace for online first brands.
2. TikTok sees a surge in driving sales.
For a few years, TikTok has been a hit with consumers, but marketers have been slow to capitalize on the platform. You can expect far more stores to join TikTok now that some pioneers have found out a process of selling on TikTok.
3. Stocks will continue to be impacted by supply chain concerns.
The fourth quarter of 2021 has been marred by a global shortage of shipping containers. By 2022, even small businesses are projected to start holding more inventory in sales locations. As a result of over-ordering, we may see significant stock discounts in the second half of 2022.
4. Labour shortages will continue to harm pricing.
Expect goods prices to rise in general, as manufacturers, shipping companies, and other businesses must pay their staff more in 2022. Working in retail became a life-threatening situation for several workers in 2020, owing to insufficient safety standards.
5. Sustainability is now a given.
Brands will need to invest in environmentally friendly packaging, manufacturing, and fulfilment methods. Consumers are more concerned than ever before about the long-term viability of their habits. In 2022, a brand's sustainability will be a crucial differentiator in the marketplace.
6. Accessibility to commercial automation will lead to an increase in personalized marketing from all brands.
If brands want to stand out, they must start looking for novel ways to communicate. Integrating your Marketing software can give your organization a competitive advantage. You should expect to see more localized marketing in the future. It's never been easier to connect with areas on a large scale.
7. The United States gets Livestream shopping.
In the past few years, Chinese companies have pioneered a practice known as Livestream shopping. The audience can interact with the host and provide immediate social proof to the brand. China spent $300 billion on this form of procurement in 2021. American merchants had begun to adopt the plan.
8. Payment methods such as buy-now, pay-later will become commonplace.
BNPL sales are predicted to increase by more than 40% in 2022 compared to 2021. Paypal alone experienced a 400% spike in BNPL transactions on Black Friday. One benefit of cloud ERP software is that it improves cash flow, streamlines business operations and helps you save money.
9. The trend of experiential retail is gaining traction.
Following the pandemic, Retailers will devote more resources to providing a personalized, stimulating experience for their customers. Customers prefer in-store socializing and entertainment to same-day pick-up for vital items. This would most certainly include everything from personal shopping to comprehensive retail entertainment.
10. Retailers prioritize retention.
As client acquisition costs have risen in recent years, marketers have emphasized the necessity of customer retention. By 2022, many brands will have made customer retention their explicit goal. As a result, businesses will improve their post-purchase experiences and streamline fulfilment.
Conclusion
In 2022, the retail industry will be undergoing massive changes. Cloud ERP software is changing the way that businesses operate across all industries. In the past ten years, retailers have learned a lot and made many improvements. As they continue to take this knowledge and apply it in the future, they will bring many new ideas and innovations into stores.
Logic ERP is a specialist provider of enterprise software applications that improve the business performance of its customers. Discover Logic's fully-featured ERP solutions.