Top 5 Retail Trends Shaping the Adoption of Cloud Infrastructure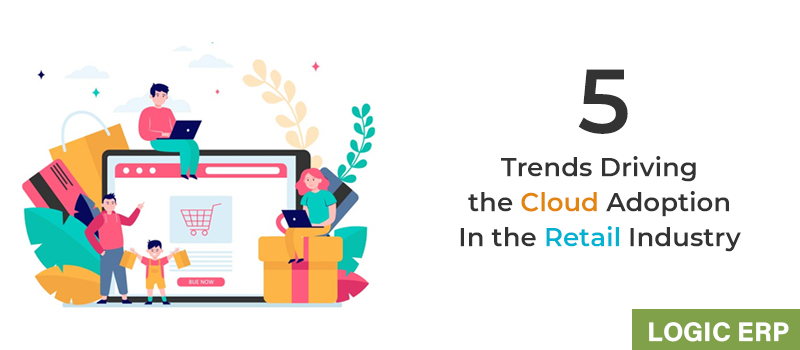 Retailers are addressing a host of digital, technological, and other issues by focusing on bottom-line growth, customer focus, and other benefits. By adopting a cloud retail software tailored to the needs of their customers, these retailers hope to address many of their industry's key issues. Logic ERP is one such service that provides seamless integration of real-time operations between inventory, sales, and purchasing through its cloud ERP software.
Businesses have changed how they operate and evolve in response to the challenges of today's evolving business environment. Few would have predicted that future changes would result in online business and personal interactions, supply chains being disrupted, and remote working becoming rampant. Organizations that laid down their digital tracks early were better positioned to recover and speed ahead of those that did not.
With the rise of e-commerce, the retail industry has evolved into a new normal, freeing brick-and-mortar retailers from their traditional model. Digital is at the forefront of this new paradigm—retail companies are evolving to meet consumer demand through digital channels. These businesses use intelligent retail software to provide consumers with greater choice and control while maintaining a high level of personalized service favored by their customers. This technology also enables retailers to create a flexible, dynamic supply chain that meets customers where they are, regardless of their preferred method of shopping.
The following are the 5 retail trends stimulated by COVID-19:
The explosion of data and the ability to monetize it are creating many opportunities for retailers: Intelligent retail models can leverage all the data at their disposal to create rich customer experiences at all touch points. Data-driven retailers can use predictive analytics to make intelligent recommendations, send personalized messages, improve inventory management, and much more through the use of retail software like Logic ERP.
Retailers demand a new breed of business partners: Strong partnerships and ecosystems can empower retailers with the skills needed to meet customers where they are and deliver streamlined, intuitive purchasing experiences across all channels. Partnerships can also help retailers add value to existing customer relationships while providing access to new skill sets. Empowering the B2C ecosystem with rich, intelligent capabilities delivered via the industry cloud enables retailers to deliver streamlined, personalized purchasing experiences for both consumers and business partners.
The concept of loyalty is a complex one in business: For years, retailers have counted on a combination of brand loyalty and brick-and-mortar stores to keep their customers coming back. While that can still work for some businesses, others are learning that it's now more important than ever to make sure the customer experience is hassle-free down to the very end–and that means not only making online shopping simple but also offering contactless pickup or home delivery.
Empowering customers and sales associates: Retailers across the globe are adapting to the new normal by deploying a remote communication platform that fosters collaboration and consistent customer experiences. Across industries, companies are responding to changes in the market by developing new strategies for their retail divisions. By implementing new communication methods and devices, retailers can improve customer experiences in areas such as store visits, product delivery, and store pickup.
Sustainability concerns and the need for conservation of the environment are still very much top of mind for consumers and brands: As consumers continue to become increasingly conscious of their impact on the environment and long-term sustainability, they have started supporting businesses whose products or services help reduce negative environmental impacts. These efforts have become a key component in any business's marketing strategy, as well as an important area to focus on when it comes to attracting and engaging with customers.
Recent advances in technology have made cloud retail software increasingly more viable for the retail industry. A report from the National Association of Software and Services Companies (NASSCOM) and Technopak, a consulting firm focused on the Indian retail sector, outlines that by 2030, 12 million new employment opportunities will be created, and retail exports will be worth $125 billion.
Logic ERP cloud ERP software is designed specifically for the retail industry and can connect experiences across the entire shopping experience, integrating and interpreting disparate data sources in real-time. Logic ERP platform could unify and centralize a retailer's data and help the company realize the true value of its information.