6 Reasons That Indicate It's Time to Transition Your Point-of-Sale Systems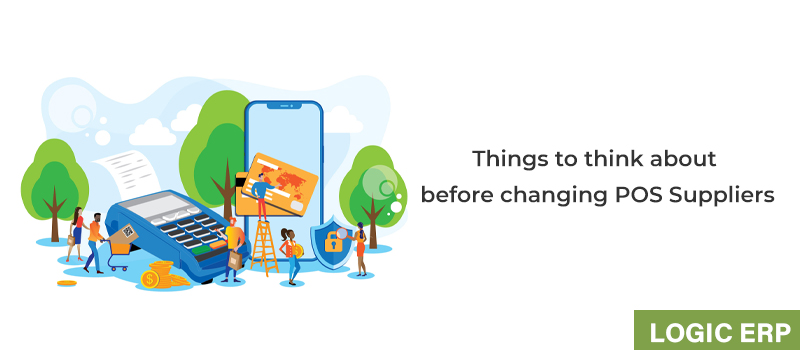 It's no longer enough to simply sell things in your store nowadays. If the Covid-19 pandemic has shown us anything, it's that selling online is essential for a successful retail operation. Shoppers who use a combination of web and digital channels, as well as in-store encounters, must be supported by POS systems like the one from Logic ERP. However, not most POS systems are designed to support multichannel shopping. Sure, you can locate a leading e – commerce platform that connects to your POS and likewise, but these connections can cause irreversible issues. When online businesses and point-of-sale systems don't operate effectively together, customers have a difficult time and retailers have additional administrative work. Looking for a hint that it's time to upgrade your POS system?
Here are a few reasons to consider while deciding whether or not to take the plunge.
Your POS system is difficult to operate
If your existing POS system is difficult to navigate, it's likely holding down registration and employee training, as well as preventing access to useful features. If servicing customers, receiving payments, or handling inventory is too difficult, it's time to look for a new solution.
Your online stores and your physical store are not linked
It's more difficult to keep inventory synchronized and understand your customers' preferences when your online marketplace and your POS system don't communicate—and it's close to impossible to provide flexible order fulfillment alternatives like in-store pickup. As a result, you could be missing out on possibilities to consolidate your distribution networks and allow customers to shop whenever and wherever they choose.
Expenditures are stifling your progress
Your POS system could be harming your company's growth. If you have to overpay each POS terminal, you're likely overpaying everytime you need to recruit more employees or establish a new retail location. Paying each retail location and having infinite terminals is a more cost-effective option. This ensures that you only pay one upfront fee per store location and that your staff has access to as many Point – of – sale registers as they require to efficiently service consumers. Logic ERP's point-of-sale software can easily and precisely handle this.
You're having trouble managing your expanding team
Managing employees is one of the most time-consuming tasks for a retailer. Everything from making schedules to performance measurement to assuring you have the correct number of personnel working each shift is on your to-do list. Nevertheless, a finest POS system like Logic ERP can help merchants better plan and schedule their employees. Your POS system's reports, for example, should show you how many transactions were processed at your retail outlet within a specific time period. This information allows you to identify peak hours and frequent lulls in order to plan personnel schedules accordingly.
You can't help clients no matter where they are
You won't be able to approach your clients where they are in your store if your point – of – sale system is fixed to the service counter. With a mobile point of sale system, any phone or tablet may be used as a checkout point, allowing for faster checkout times and a more pleasant shopping experience. Selling at pop-up stores, events, and other special events is also easier with a portable point-of-sale system.
You are unable to obtain assistance when you require it
Technical problems are unavoidable with technologies, but if you can't receive help when you need it, it's time to part ways with your present supplier. You can rely on our support service at Logic ERP to be there for you each step of the way. You may obtain assistance with your site, point-of-sale system, and payments from one source. Our team is willing to assist your company in overcoming any obstacles.
Things to think about before changing POS suppliers
If you relate with any of the aforementioned issues, it's time to upgrade your POS system. To discover the finest POS system for the company and facilitate a smooth transfer, follow these steps –
Understand your legal responsibilities.

List the flaws in your current POS system.

Consider your future requirements.

Examine the costs of payment processing.

Keep an eye out for hidden costs.

See how other POS systems work.

Request feedback from other retailers to see if you require new hardware.

Try it for free.

Recognize the migration procedure
Conclusion
A Point of sale system is by far the most crucial component of your retail IT stack. It should enable you and your team to make confident judgments and streamline day-to-day operations. However, as more customers seek seamless in-store and online purchasing experiences, more firms are implementing systems that allow them to sell all over and administer all distribution channels in one location. The POS software from Logic ERP can help you satisfy all of your business demands.