Top 5 Obstacles to Pharmaceutical Supply Chains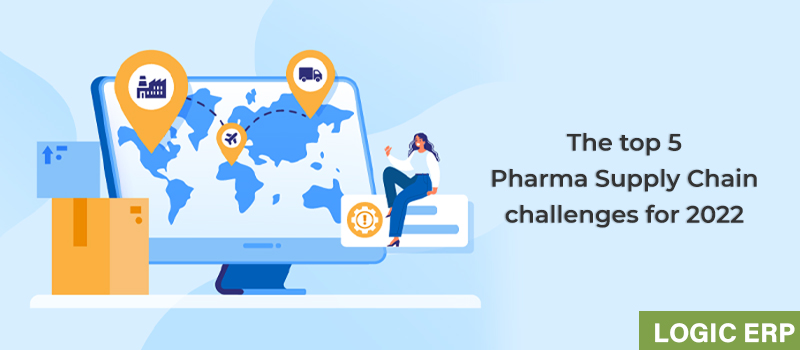 In 2020, issues with the pharmaceutical supply chain have been a top source of worry for the sector. Even as the globe advances in the age of the new normal, the challenges remain very much in force. This pandemic had a significant socioeconomic influence on the entire world and disrupted practically every aspect of the industry. Modern businesses have adapted to the changes quickly thanks to the correct tools and technologies. Businesses who were still using antiquated systems were finding it difficult to adjust their business procedures as a result of the epidemic. Companies who were slow to adapt had to work harder to comprehend the necessary adjustments, and it was difficult to adapt without the proper technologies.
Many risk-averse pharmaceutical companies are still vulnerable to supply chain problems as a result of the lack of the proper tools in place to make them nimble, despite the fact that modern manufacturing companies did rise to the challenges and utilize solutions such as cloud services, intelligent systems, Machine Learning, Artificial Intelligence (AI), and Big Data to their advantages. Let's examine the top 5 issues with the pharmaceutical business supply chain that remain urgent issues:
Increasing competition from generic pharmaceutical products
The impending copyright cliffs will be unfortunate news for some of the largest pharmaceutical producers but great news for businesses looking to create generic drugs and for those looking for cheaper medical care.
Regulations and Compliance
The most recent Good Distribution Practices must already be followed throughout the pharmaceutical supply chain. Regulations, however, are always changing. Companies will increasingly need to better arrange their internal controls, customs management, and supply chains to raise regulation to a new level.
Pharmaceutical fraud is still a significant problem for the industry, and COVID-19 may have made it much worse. Industry watchers forecast that pandemic-related malfeasance will result in this year's healthcare scam settlements being higher than usual.
Documentation digitalization, industry platform standards, electronic signatures on legal papers, formal verification, blockchain, and automation. Increasing data security to support post-Covid19 work settings is the biggest problem facing the pharmaceutical industry in terms of delivering changes in a secure manner. In the digital age, how to monitor the translation and regeneration of distribution network tools and procedures for continuous improvement.
The difficulty of tracking problems back to their origins is one of the most prevalent supply chain difficulties in the pharmaceutical sector. Whenever a shipment of pharmaceuticals arrives in a severely unfit state for human consumption, a fake drug is discovered, or when prices increase for no apparent reason.
How can pharmaceutical ERP control the manufacturing industry's supply chain?
Using Demand and Planning
When orders are received, producers can automatically develop demand using a pharmaceutical ERP calculating the necessary amounts of material or item and guaranteeing prompt refill.
By Means of Measurement and Evaluation
It is challenging to regulate a pharmaceutical supply chain using numerous unrelated systems and workflow procedures. Because of this, it is impossible for pharmaceutical producers to assess the relative activity to planned objectives and targets. With Pharma ERP Software  everything is set up in an orderly manner to get things done, ensuring that any variations along the distribution chain are promptly discovered and remedied.
Through Shipment Management
Pharmaceutical ERP immediately produces an invoice that must be submitted to the customer as soon as the product is shipped. It also aids in maintaining a consolidated repository for all shipments and delivery information. It aids in ensuring that the products are delivered on schedule.
Conclusion
Pharmaceutical processing and marketing businesses must streamline their processes to ensure the effectiveness of supply chains in the face of a once-in-a-lifetime challenge. Pharmaceutical supply chain issues have always existed in this industry, and businesses who lack the necessary tools typically struggle more than others. The moment is now to reform and acquire the necessary technology for a better future. Contact Logic ERP today to transform your business.