How Important is Digitization to Your Pharmacy and how can you go About Doing it?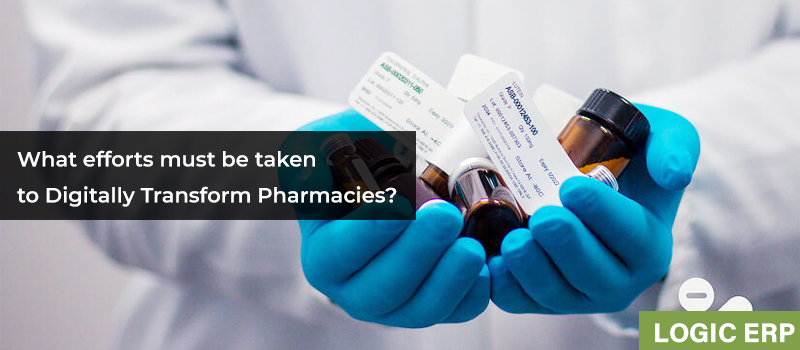 Many pharmacies continue to use strict, out-of-date software that was created 10 to 20 years ago, is slow to use, difficult to modify, and has outmoded features. Pharmacies today require technology that enables them to provide excellent customer service while also adhering to complex laws and regulations. However, companies are unable to switch to more competing technology because they are caught in a vicious cycle of declining IT capabilities and rising expenses because the old technology needs constant upkeep. As the pharmacy's accounts are depleted by constant expenditure, it becomes increasingly difficult to write off existing software and invest in new, modern, and adaptive results that are highly configurable and meet the digital pharmacy's current and future needs.
Why is Pharmacy Digitization Required?
To understand why digitizing your pharmacy is a requisite, consider the day-to-day tasks involved in running a digital pharmacy and how automation can enhance the productivity of these operations.
Keeping the Ambient Environment in Place
For delicate medications, maintaining a specific temperature is crucial. This is because the drug's quality is impacted by storage conditions. They need to keep an eye on their temperature all the time and keep it within a certain range. Manual completion of this activity is nearly impossible, and there is a high likelihood of error. Pharmacists have access to automated electrical devices that maintain temperature continuously at set levels. Additionally, such devices send text messages to the account holder as an alert in the event of a malfunction or power loss.
Acquire
To make sure all necessary medications are available in enough quantities, pharmacies must regularly monitor their stock and place purchase orders for medicines that are running short. Manually doing this check can leave you without essential medicines. Pharmacies can view drug availability using technology and then approve transactions. The procedure of finishing an order involves a lot of phases. Taking new orders, determining whether additional medications are required, confirming treatment requirements, providing the medication to the consumer, and lastly completing the payment are all included. The efficiency of this procedure will undoubtedly increase with automation.
Charges
The pharmaceutical outlet provides a precise bill for a purchase once the prescription is successfully delivered. This manual statement requires a lot of time and has a significant chance of error. Your pharmacy software can manage the pharma billing software concept with ease. When you utilize Logic ERP software to monitor your firm, everything is automatic and exact. You will also get full details on the stock that is still available, the top-selling products, and the revenue generated.
What Efforts Must Be Taken to Digitally Transform Pharmacies?
Enhance Online Pharmacies
Virtual care selling platforms are becoming more and more common because consumers are accustomed to purchasing their necessities online. People are buying pharmaceuticals online since there are several benefits to doing so. Since there is no infrastructure needed for an online pharmacy, integrating one into your current company is simple. The investment returns are also significant and quick. If you are skilled at coding, you can accomplish it on your own. To use it properly, you'll need a database, though. All you have to do to avoid this is get in touch with a company that provides the pharmacy platform.
ERP Software Usage
ERP software streamlines your business by integrating multiple components. Many processes are streamlined with the use of ERP software. Let's examine how ERP software can help you manage your business.
Bill quickly

Monitor products that are about to expire or have already expired.

Create GST invoices

Make and keep a record of every prescription for medication

Producing stock reports
Make Use of IoT Devices
IoT devices can greatly improve your pharmacy business. To enable wireless monitoring, your pharmacy system must integrate RFID tags, barcode scanners, and temperature-monitoring equipment.
Create an Online Payment System
Provide payment channels so that clients can make online payments. Your system must be equipped with the pharma software which controls all of your company's accounting and billing.
Conclusion:
The most important elements of pharmacy digitization have been covered. However, there isn't a single answer that applies to everyone. All of these aspects don't need to be included in the pharmacy's digitization. You can choose the ones that best meet your requirements. Please get in touch with the Logic ERP team if you're seeking the best technology for the pharmacy sector and want to digitize it. The group will help you as much as they can.