POS for a Supermarket – Simple Steps for Selection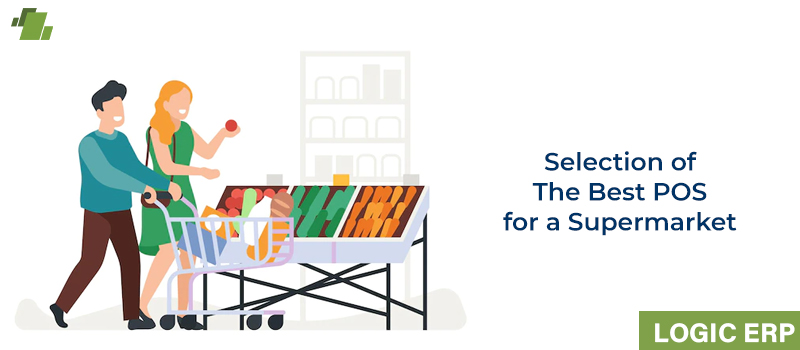 Retail competition has reached an all-time high. E-commerce is rapidly eroding offline retail sales. Providing a superior in-store shopping experience is the most certain way to increase sales. This is where 'POS for supermarket' comes into play. A point-of-sale system (POS) changes the way supermarket owners manage their sales, billing, and inventory. So, if you're looking for good Supermarket POS software, here are eight ways to evaluate your options.
Map the Custom Requirements for your Supermarket POS
Your proposition for supermarket business challenges and adds value to your company. A traditional supermarket setup is more likely to address issues such as:
The billing process is slow, and there are long lines at the checkout.

Manual inventory management can be time-consuming and inefficient.

Inadequate and inaccurate reporting.

Customer dissatisfaction and decreased sales.
Prioritize Security When Deploying POS For Supermarkets
When you have multiple supermarkets or grocery stores, the security concern grows. Businesses are responsible for safeguarding critical credit card information for their customers. The retail POS system you select for Supermarket Management must provide advanced security and robust data encryption. The ideal supermarket POS software should enable you to create an unlimited number of users and also assist you in defining specific access levels for these users.
Examine the Inventory Management Features It Provides
Seamless Store Inventory Management is a critical component of success in the supermarket industry. "Out of Stock" labels always run the risk of ruining the customer experience. The supermarket software you select must assist you in mitigating these challenges.
A good POS for a supermarket should include inventory management features such as:
Notifications to remind of stock clearance and expiry dates.

Notification to indicate the need for stock replenishment.

Barcode items to facilitate payment processing.

Supply chain management that is automated
Examine Supermarket POS for Multi-Store Management
You may have multiple stores in a single location, multiple locations, or even multiple cities. It makes sense to choose a supermarket or grocery store software that includes a Multi-store POS feature. Your POS software must be scalable to your business.
So, bet on supermarket software that includes features such as:
Data tracking across all stores from the backend.

Creating a management headquarters to centrally manage all stores.

Pricing, promotions, and inventory are all managed across all stores.

Centrally tracking inventory data and movement.

Monitoring employee productivity and user access from the designated headquarters.
Compare Marketing Elements to Increase Store Sales
The right POS for supermarkets can help you redefine your retail marketing strategy when you're preparing for Holiday sales or regular promotions. You should be able to track your sales data, store-specific customer data, customer trends, and understand your best-selling products and best-selling days.
The ideal supermarket retail POS includes features such as:
Manage promotions across multiple stores from a single location.

Create personalized deals and keep track of their threshold limits.

Manage clearance sales following inventory expiry dates.

Increase holiday and shopping season sales.
Select the POS for Supermarket that is centered on increasing repeat sales
Customer loyalty is unavoidably an important factor in your supermarket's sales. The supermarket POS software you select must assist you in increasing repeat purchases. You should be able to plan a Customer Reward Program and enroll customers in it. This approach will encourage them to return to your stores and make additional purchases.
Think about POS Deployment and Offline Operations
It is preferable to select a POS provider that provides multiple deployment options. It allows you to deploy POS on-premise, in the cloud, or partially on both. If you choose a comprehensive cloud-based POS, it will function even when there is no internet connection. As a result, you avoid data loss and provide a consistent customer experience.
Inquire About Training and Post-Deployment Assistance
In the event of downtime or discrepancies, a POS provider should be your first point of contact.
Use this questionnaire to scrutinize and choose the best POS system provider:
How can you help me with the implementation of POS software for supermarkets?

Do you offer customized POS training for my team?

Will you assist me if my POS system experiences any downtime errors?

How soon can your team assist me in resolving any technical issues with my POS system?