Pharma ERP Software and its Importance in Pharmaceutical Businesses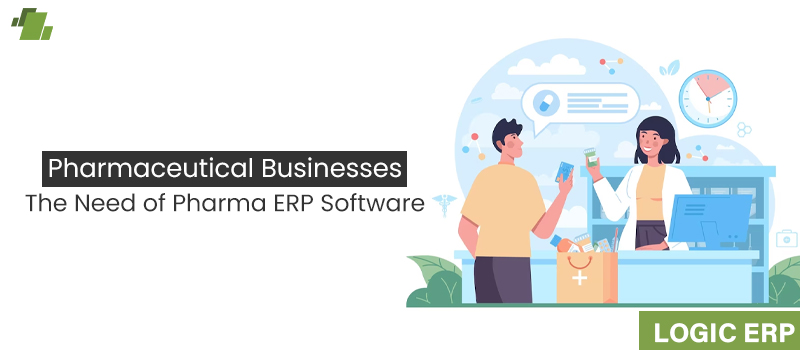 In recent years, the pharmaceutical industry has faced intense competition in an unstable market. The owners must be considerably more prompt in making proper judgments, such as data to keep up with reviewing healthcare activities, managing manufacturing demands, and regulating government changes.
The software aids in the implementation of creative and production needs to boost company operations. Every work may be managed with the aid of pharma ERP software. The pressure on pharmaceutical businesses to offer the greatest quality healthcare goods is increasing as customer demands rise.
These are some of the reasons why pharmaceutical organizations want pharma ERP software.
Monitor and Control Papers:
Due to the pharma industry's statutory vigilance and compliance obligations, managing documents is a critical duty for any organization. To confront future audit inspections and analysis, it is critical to capture all historical data for each process and its accompanying papers. For example, with ERP software, lab information may be recorded centrally and retrieved from anywhere.
Managing Records:
The ERP system aids in the digital recording and maintenance of patient records. It saves the patient's current status and history for use when the patient returns to the facility. It enables them to review past documents to better comprehend their health situation. The ERP system also aids in the management of medications, invoices, payments and pending payments.
Handle Significant Needs:
By assuring critical requirements such as FDA, quality assurance, and quality management and validation standards, the ERP system may enable worldwide expansion and provide the organization with a competitive edge. The pharma ERP system is specifically built to satisfy the demands of the pharma sector, and it integrates with other technologies to produce a productive business model that adheres to industry standards and government laws.
Satisfy Government Laws and Regulations:
Every business owner wants to expand their company in the global market and get a competitive advantage over their competitors. The program assists in meeting government laws and regulations such as quality assurance, price tags, quality, taxes, audits, and many more. When pharmaceutical ERP software is used, it interacts with practical instruments to fulfill government laws and regulations, guaranteeing that every major rule is met.
Control Raw Material and Inventory:
The pharma ERP systems are intended to limit material wastage and manage inventory levels to avoid shortages. The module continually detects raw material requirements for goods, initiates procurement, establishes objectives, monitors material use – overuse or deficiency, reconciles inventory balances, and generates reports.
Handle Sales and Marketing:
Every pharma software package has sales management features. This technology or feature aids in the implementation of immediate sales order processing. The program aids in the regulation of sales and marketing operations, the maintenance of records and customer information, the automation of marketing campaigns, the transfer of information to sales orders, the execution of promotional campaigns, the support of higher ROI, and much more.
Managing Medication Ingredients:
Many pharma companies discount medicine prices to be competitive, but they are still compelled to meet GMP standards. As a pharma owner or employee, it is critical to maintaining the number of salts following GMP standards to ensure the efficacy of pharmaceuticals. At this stage, ERP software assists in streamlining production processes and ensuring a higher ROI. The GMP regulations may be simply connected with the ingredient's formulation utilizing ERP software.
Track Batch and Lot:
A batch and lot tracking tool or feature is another advantage of pharma ERP software. This aids in the monitoring of material batches from the primary to the in-progress quality check (IPQC) stages. This enables producers to inspect a batch or lot of work in progress as well as its delivery status. It is useful to know when everything will be ready for delivery or usage.
Handle Generated Items:
As previously said, the ERP system assists in monitoring batches from the production stage to the IPQC stage. You comprehend and oversee the manufacturing of things as a pharma manufacturer. Furthermore, the ERP software alerts you to damaged or returned items in inventories. This also aids in determining whether or not the stock requirements are met.
Reporting:
Due to the pharmaceutical industry's statutory vigilance and compliance requirements, reporting is seen as a critical responsibility. It becomes critical to preserving a record of each procedure and its associated paperwork for future analysis and audit checks. As a result, if you receive an acceptable status report in the ERP system, you may view it from anywhere. In such cases, cloud storage comes to the rescue.
Payments:
The ERP software also aids in the calculation, management, and receipt of payments. It accepts online payments using several payment methods including credit and debit cards. The program holds all of the necessary transaction and payment details, including client data and purchase details. Simple payments enable more effective and efficient procedures.
Conclusion
These are some of the reasons why pharmaceutical organizations want pharma ERP software with improved activities, integrations, and accessibility. The software aids in the management of production, delivery, and payments, as well as offering users' other necessary features such as integrations, automation, reporting, and much more. Inventory management and balancing demand and production become significantly more important.