Retail Billing Software and its Advantages for Kirana Stores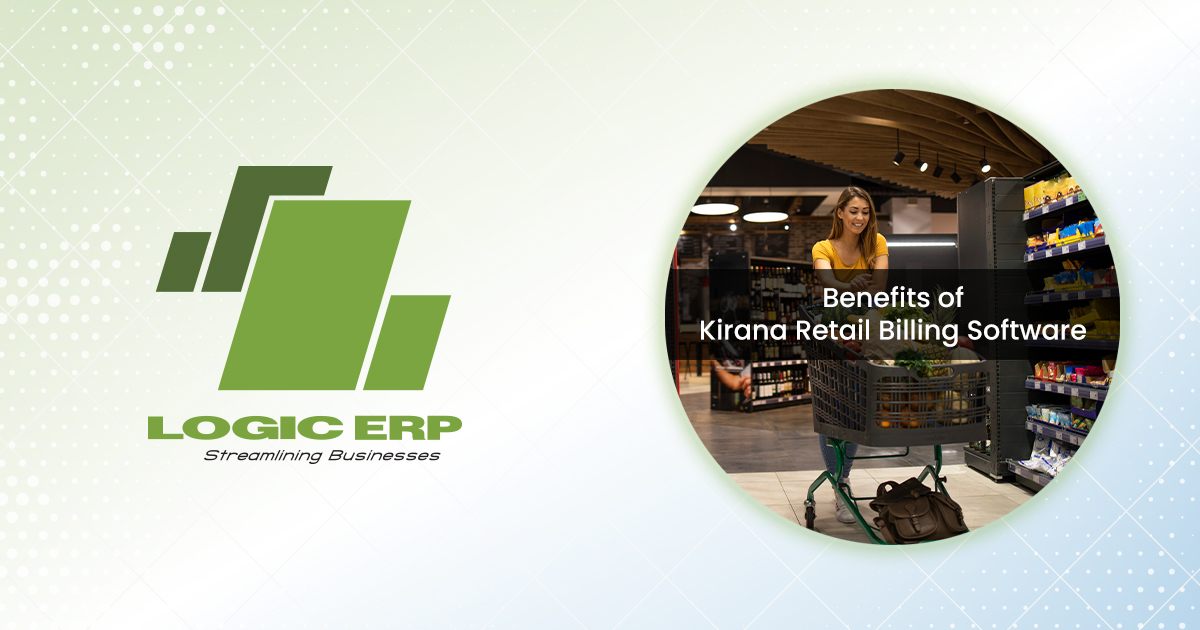 Kirana retail billing software is changing the way they do business. It streamlines the billing process, eliminates tedious paperwork, and offers a quick, fast, and secure method of managing inventory, tracking sales, and accepting payments. Kirana businesses may cut expenses, enhance customer service, and increase revenues by automating the billing process. In this blog, we'll go over the different advantages of adopting billing software for Kirana businesses and how it may help them grow their business.
Benefits of Kirana Retail Billing Software
Saving Time
Kirana shops benefit greatly from retail billing software. It helps business owners to handle orders fast and precisely, saving human labor and allowing store owners to save valuable time. All client transactions are kept in a single centralized database using billing software, allowing store owners to instantly obtain information from consumer purchases and deliver real-time inventory changes. This removes the need for employees to manually enter each client's purchase into the system, resulting in speedier, more efficient service and faster consumer checkout.
Furthermore, billing software may be coupled with POS terminals, allowing consumers to pay for their goods with a credit card or another form of electronic payment. This minimizes the time it takes personnel to handle orders even further. Finally, by automating the process of client order processing, billing software may assist Kirana shops cut operational expenses and save time.
Reduce Your Expenses
Using billing software for your Retail Kirana store is a great method to save money. You may use this program to track your inventory and optimize stock levels to save money. It also allows you to take advantage of bulk purchasing discounts, allowing you to buy things at a lesser rate. By automating operations like billing and data input, the software may also help you save money on labor. It also helps you eliminate paperwork, which saves you money on paper, printing, and filing. Billing software may help you operate your Kirana business more efficiently, saving you money.
Increase Your Customer Satisfaction
Having billing software in your Kirana business helps increase client satisfaction. Your clients may make payments fast and conveniently using store billing software. They are not required to stand in line to make payments. Instead, customers can pay straight immediately, allowing them to rapidly enter and exit the business. This reduces wait times and keeps consumers satisfied.
You can also securely store client data using billing software. Customer profiles may be created to hold information such as contact information, purchase history, loyalty points, and other data. This allows you to better serve your consumers, making them feel appreciated and valued. You may boost customer happiness and provide a better shopping experience for your consumers by implementing billing software in your Kirana store.
Improve Your Efficiency
Billing software is an excellent tool for enhancing Kirana shop efficiency. Shop owners may use it to speed the checkout process and reduce errors that could result in lost income. The program also removes time-consuming manual operations such as order entry, discount calculation, and receipt printing.
This allows retail employees to concentrate on providing outstanding customer service, resulting in higher customer satisfaction and retention. Billing software simplifies inventory and sales tracking by automating the billing process, decreasing the need for human stocktaking, and assisting in the prevention of out-of-stock situations. Finally, billing software gives business managers more control over their operations by providing vital data on client purchasing behaviors and trends.
Inventory Management Simplified
Inventory management is simplified for Kirana retailers thanks to billing software. The program can create an inventory report rapidly, including the number of goods in stock, the price of each product, and the current stock level. This enables store managers to rapidly determine which goods require replenishment and alter pricing accordingly. This saves a significant amount of time since it removes the need to physically count each item and make the appropriate changes.
Customer orders may also be tracked more easily using billing software. It may produce orders automatically, allowing business owners to know what their consumers purchased and when they placed their orders. This gives useful information on client purchasing behavior, which may be utilized to improve product offerings and marketing tactics. Store owners may better adapt their product selection and marketing activities for optimal success if they understand what their consumers are buying.
Conclusion
Kirana retailers can benefit greatly from shop charging programming, which offers a variety of benefits that assist in increasing efficiency and lowering costs. It helps with stock administration, saves time, improves customer satisfaction, and overall effectiveness. Investing in billing software is an investment in your store's future that will undoubtedly pay off in the long term.