Advantages and Functions of Pharmacy Management Software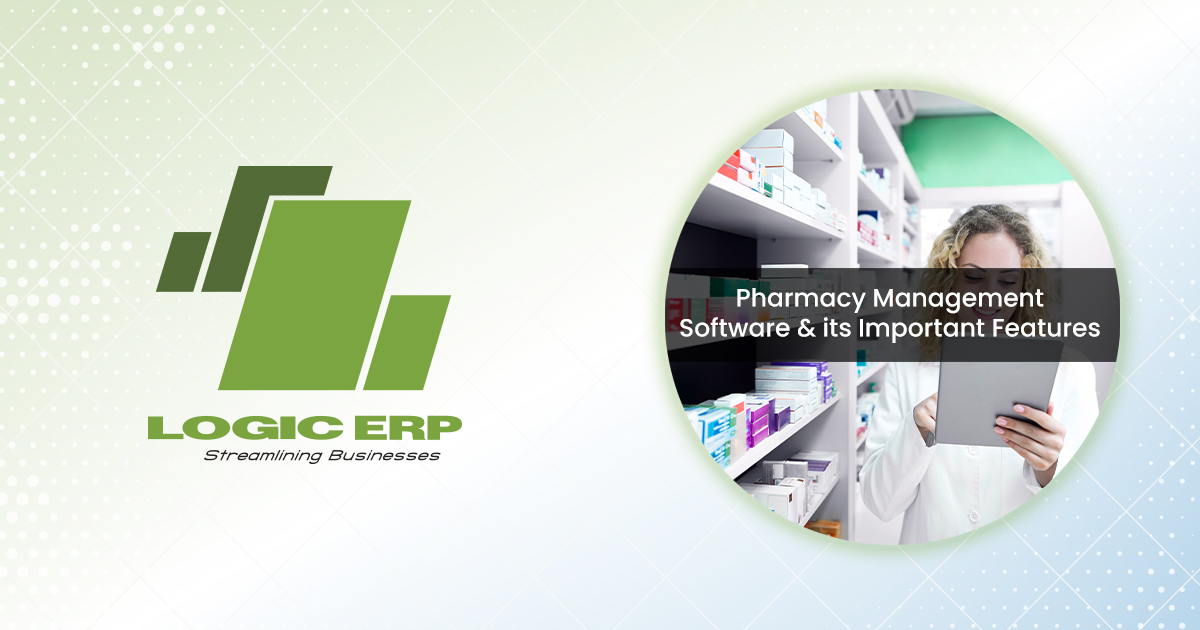 The worldwide shutdown increased unpredictability, personalization, and digitization. Despite this anxiety, the harsh Coronavirus reality has resulted in some good developments. For example, the remote sale of pharmaceuticals and access to pharmaceutical businesses through the Internet during quarantine proved to be a beneficial practice that is likely to continue.
In this scenario, pharmacy management software is the innovation that tackles the majority of industry difficulties and delivers the required services.
What Is the Definition of Pharmacy Management Software?
In essence, pharmacy management technology is used to optimize the normal activities that occur in a pharmaceutical organization. The pharmacy management system's fundamental functionality is the facilitating of medical prescriptions. To be more specific, this platform maintains inventories, selects pharmaceuticals that are needed and available, and safely and effectively distributes them to patients. At the same time, it may be used to improve the whole supply chain by meeting the demands and expectations of multiple stakeholders.
The Industry's Need for Pharmacy Software
The programme is useful for both large and small pharmaceutical enterprises. In particular, technology aids in improving customer relationships, allowing you to satisfy their expectations more effectively. On a wider scale, pharmaceutical software functionality increases collaboration with partners. You may strengthen your ties with suppliers, manufacturers, and warehouses.
Overall, technology has the potential to increase the quality of different everyday processes, making them more error-free and impactful. They may relate to, among other things, pricing setting, drug selection, security measures, and supply chain management. It acts as an integrated platform where numerous modules and technologies aid in offering the greatest quality service that a certain pharmaceutical firm can provide.
Six Advantages of Pharmacy Management Software
Pharmacy software, with its diverse variety of automated technologies, greatly reduces the amount of extra working hours required by your specialists. However, this is a long-term benefit that requires a significant short-term commitment initially.
Online pharmacy features eliminate the requirement to deal with several documents. You may gradually transition to a whole eCommerce module that allows you to conduct entirely contactless transactions where the pharmaceuticals are delivered right to your clients' doorsteps.
Internal Process Integration
You may use pharmacy management software to synchronize work between departments and stakeholders, such as the back-office, sales teams, offline data flows, and a variety of other procedures.
Increased Client Satisfaction
You can provide pharmaceutical items to your consumers more correctly if you start by recording their order history. In addition, pharmacy management systems may connect information from insurance companies and patient histories from medical institutions. This data can increase your sales by linking your medications to the appropriate customer base type.
Improved Inventory Management
To improve resource allocation, the speciality pharmacy management software delivers an easy-to-use interface. You will have greater control over your stock as a result of more precise invoicing and financial management. Starting with order tracking by gathering data from other agencies, giving multi-location support, and reporting on what's going on in your business that can be updated at any moment, you can feel the changes.
Each pharmaceutical product has its own record in the pharmacy management systems, which includes the available quantity, average client profile, and possible promotions. All of this information may assist your salespeople perform a better job and contribute to your business plan more effectively.
Six Essential Pharmacy Management Software Features
Modules For Stock Control
The programme should include medicine selection, supply management, order scheduling, and filling in the relevant information for inventory tracking. To put it another way, pharmaceutical inventory management software completes the digital audit. This module should ideally offer information in real-time for the most accurate inventory management possible. Furthermore, it should be connected with several pharmaceutical organizations to process all necessary data sets and offer the best outcomes.
Prescriptions are Scheduled
This prescription management function is tightly related to stock control, which means that the operations of filling inventory and dispensing prescriptions are synchronized and ensure the required degree of optimization. As a result, digital prescriptions become an error-free and user-friendly solution for properly and quickly dispensing pharmaceuticals to patients.
Module for Workflow Management
In this regard, pharmacy software processes should be responsible for ensuring the correctness of the medication appointment procedure. It is specifically concerned with preliminary patient identification, prescription generation, vehicle data entry processing, and order medicine issuance. In summary, pharmacy workflow software aids in operational management by assisting in the delivery of pharmaceuticals from the point of entry to the point of sale.
System for Generating Reports
This pharma software component allows you to organize and retain information inside your organization. Furthermore, the function may provide analytical reports while adhering to all privacy rules for sensitive data. The reporting module is quite useful since it may prevent risks, implement data-driven choices, and conduct audits aided by thorough analytics. The greater good is served by improving corporate strategy and complying with certification criteria.
The pharmacy management software should have the smart mechanism which may integrate your data processing and reporting with local rules to make your accounting work easier.
Within the programme, you may use the customized alert system to improve communication and customer service. You may, for example, send alerts about patient safety, pharmaceuticals that are about to go out of stock, and future promotions. Pharmaceutical businesses frequently utilize this function to send text messages to patients to help them keep track of their prescriptions.
Conclusion:
Pharmacy management software has revolutionized the way pharmacies operate, providing numerous advantages and essential functions that enhance efficiency, accuracy, and patient safety. From inventory management to prescription processing and regulatory compliance, these software solutions play a pivotal role in streamlining pharmacy workflows and ensuring optimal patient care. Embracing LOGIC ERP software is not only a smart business decision but also a step towards the future of the healthcare industry.