What Apparel Management Software Features will help your business grow?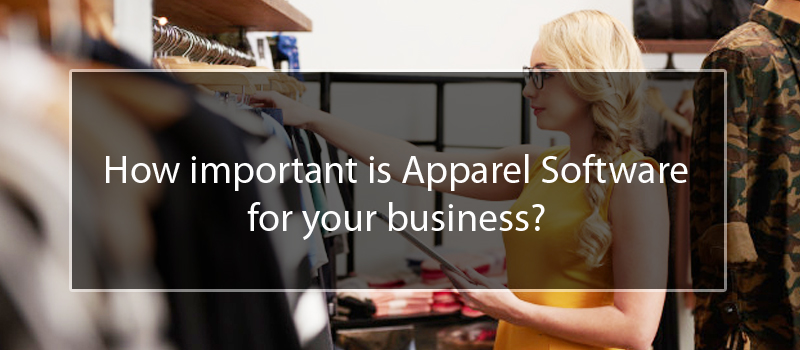 When you look for the fastest growing industries of 2020, you will notice that the lifestyle industry is among them too. There are plenty of businesses that fall under this category and apparel business is one of them. As the competition is right now, you need a reliable software platform to drive success and streamline your operations.
One thing you should know is that if an ERP is not implemented properly, it will become a liability rather than an asset. The unnecessary steps will only slow down your business as they do not add value to your organization. Poor implementation of an ERP software may also decrease efficiency and productive gains, producing negative effects. Requirement analysis, change management, development and training are some of the basic things you need to keep in mind for a fully customized implementation. It may take some time but the after-effects will be worthwhile.
What is left now is to discuss a software system designed specifically for apparel brands. It goes by many names – Fashion ERP, AFS software, apparel management software, etc..
What do you need in your Apparel Management Software?
Running an apparel business is a combination of operational, financial, and administrative processes. As an apparel business owner, you want your ERP software system to manage all these processes seamlessly. To make this possible, your apparel management system must have the following built-in components and offer integration feature:
CRM (Customer Relationship Management)
For a business to run successfully, it's necessary to keep track of all your customers, addresses, their preferences, purchases, contacts, etc. A customer relationship management system can help you in it. It helps your sales representatives and agents to keep track of their tasks during prospecting and closing of sales. A CRM system will also help you to deal with direct consumers across different channels. You can send regular updates to your customers regarding invoices, their orders, shipments, simultaneously.
Inventory Management
If you are dealing in the omnichannel sales, you know better about the complexities in inventory management. You need to have good visibility of your stock levels, incoming/outgoing stocks, required stock, etc., especially in case of multiple locations. An integrated ERP system will keep your stock levels up-to-date in real-time across every sales channel.
Managing Orders
You may have dozens of order sources, which you need in order to grow fast and spread your link across the market. The orders might come from B2B platforms, wholesale platforms, orders enlisted by sales reps, from consumers eCommerce stores and marketplace, pre-orders, etc. To manage all of this, you need to have a proper order management installed that can fulfil these orders promptly by taking into account customer expectations.
Touch-Screen POS Billing
Nowadays, a fast billing system also matters in a business. You need to have a billing counter that can accept multi-payment modes and have a touch-screen POS system. It can be integrated with the inventory to keep tabs on the stock-levels. As a result, billing will be faster and your customers will not have to wait in long queues to make payments. It also promotes cashless payments, which is a good thing to keep everyone safe from COVID-19 (as it can spread by coming into contact with currency notes).
Production
Your production team has to fulfill an order, which could be either by in-house production or by job workers. For domestic garment sales and distribution, it is a huge challenge. LOGIC apparel ERP software has the facility of both in-house and out-houses production. You can execute a production order in-house as well as partially by job-workers.
LOGIC Apparel software system is suitable for small, medium, and large apparel brands that want to improve their operations and grow fast in the lifestyle industry. You get a complete, affordable, and customizable software solution based on your business needs.