How to Address Post-COVID-19 Challenges of the Supermarket?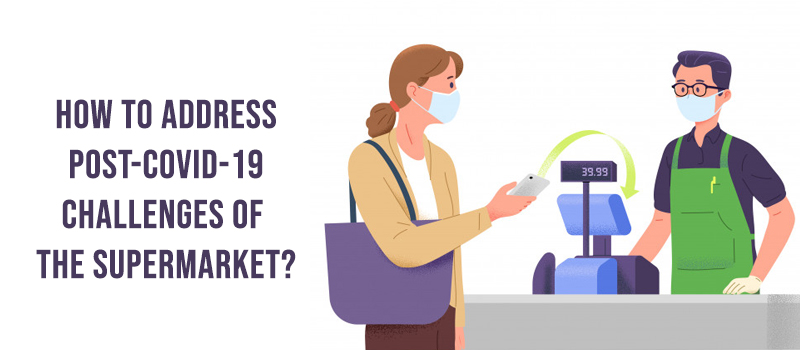 As the world is slowly recovering from COVID-19 crisis, businesses have started to think about new strategies to overcome the losses they suffered during this global pandemic. The same goes for the supermarkets. As we all know that you can buy a wide range of products in a grocery store or supermarket. People's lives are dependent on these stores as they have to buy daily need items, whether its Groceries, Personal Care, Toiletries and Fresh Fruits & Vegetables, etc..
"Traditional grocery retail is challenged in an unprecedented manner due to the COVID-19 crisis. Rapidly adopting digital transformation to address both immediate and medium-term priorities holds the key to survival, sustained growth and profitability."
Thus, it becomes necessary to implement a software solution that allows grocers/ retailers to keep themselves and employee safe as well as maintain social distance at shop. it is also mandatory by Government agency to promote Digital Payment like UPI and wallets. It is another challenge that consumers are scare to come to shop but retailers need to reach consumers at their doorstep.
LOGIC ERP has identified these problems and working with solutions to supports retailers and enabling them to overcome from this unprecedented time and challenges.
Work AT ANYWHERE, AT ANY TIME AND FROM ANY DEVICE
The traditional way of doing business when you have to sit in your shop personally to handle processes is no longer an option. Currently, everyone is focusing on taking their business online with reliable SaaS-based software models. By using cloud-based software for your supermarket, you can access the data even if you are not present in the store physically. It does not require any infrastructure setup and you can upgrade or downgrade application anytime. Using LOGIC cloud-based ERP applications can help you to gain a competitive edge over your competitors in the market. The integrated backup and recovery options will keep your data safe in the cloud storage.
Cloud Based application give retailers flexibility to access the software even sitting at home, utilize time to plan for buying, planning for how to increase sell of the age old stock and slow moving stock with schemes and promotion specially designed to liquidate even dead stock. It enables retailers with preplanned strategy and give more time and strategy to concentrate for more sell and motivate and manage employee when you all retailers are their at shop.
REACH CONSUMERS AT THEIR DOORSTEP AND ENCOURAGE TO USE MOBILE APP/ECOMMERCE
As the people are advised to maintain social distancing because of coronavirus outbreak, they will prefer online shopping more. So, if your consumers are unable to come at your grocery stores, then why not take your store to them? Your software must be able to integrate with an online ordering app so that consumers can buy essential items or services via mobile phones, tablets, etc., from the comfort of their home. By using the LOGIC AapTak app, you can promote social-distancing and run your online business smoothly. Also, the home delivery app will allow you to facilitate the delivery of items at your consumer's doorsteps. Now Home Deliveries are growing. The challenges are more for delivery boys. The delivery boys are facing challenges of accuracy of product delivery and how to get acknowledge of their deliveries as consumers are scare to sign digitally on Home delivery APP.
GO CASHLESS AND PROMOTE DIGITAL PAYMENT -UPI /WALLETS
It is advisable to avoid coming in contact with currency notes. So, having an online payment mechanism in POS software will add value to your store. Your software should offer a multi-payment mode support that allows you to accept payments through multiple channels like UPI, Bharat QR, Google Pay and Touchless EDC for touch of Credit Cards, etc.. It will also help in minimizing the threat of catching viruses, keeping yourself and your consumers safe. Also, the Indian Govt. has asked all the retailers to use Bharat QR code to accept digital payments through UPI applications. It will enable your consumers to pay for their bills by scanning the QR code, which will also promote touchless transactions.
ENABLING SALEMAN WITH MOBILE POS TO ENCOURAGE SOCIAL DISTANCING AND SAFETY
It is very important to maintain social distance and keep all consumers and even our salesman safe and healthy. There can be long que for billing, and it is challenge for social distancing norms set by locals govts, even retailers have to keep record of footfall and record of how they are responsibly adopting govt norms.
Let our Sales man equipped with Mobile App on their android based mobile itself and divert the que and smartly get the consumers, their billing cycle short Encourage consumers not to take physical copy of bill but digital bill on email/SMS with bitly link.
Try to record the social distancing and safety measures what retailers deployed by collecting feedback from consumers. Also feedback from any public device also threat, hence collecting feedback through digital mode from consumers mobile itself truly promotes safety measures.
Pan India grocers are adopting new technology and possible measures to promote public safety and health. Same time responsibly keep an eagle eye on sales data, dead stock, future assure continuity of supply from vendors. As industry is challenges same for ourself and our vendors and manufacturers also thus it is very important to ensure for delivery of your order placed to vendors/ dealers and distributors, it almost relevant if timely order placed with proper calculation of lead time and demand derived keeping eye on stock on hand, sales trend and shortage at supplier side due to surge demand.
As a Technology player and age-old tech company having experience more than 25 years and work experience with mom & pop. small retailers as well as national players in the segment of supermarket, LOGIC here to support our retailers and how to face this unprecedented challenge.