Why Mobile Point-of-Sale System is Necessary to Scale-up your Business?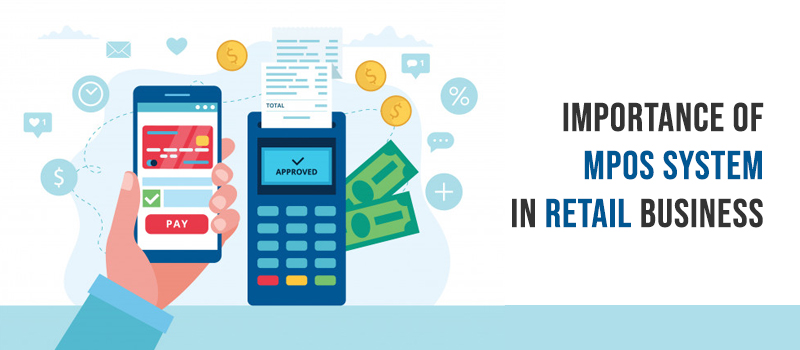 Before we start with how mobile point-of-sale system can benefit your business and why you should implement it, let's take a look at some stats:
The transaction value in the mobile point-of-sale category will reach USD 11,594 million at the end of 2020.
The average transaction value/user in the mobile POS payments category will be of USD 53.6 at the end of 2020.
In 2016, the Business Insider in their post reported that by 2021, there would be 27.7 million Mobile POS devices in the United States alone.
By 2024, there will be around 359.6 million users in the mobile POS payments segment.
The transaction value in the Mobile POS segment will show an annual growth rate of 42.5% (CAGR 2020-2024), which will be USD 47.749 million until 2024.
China has already reached the highest transaction value in 2020, i.e., USD 755,511 million.
Well, all POS systems are not retail-centric. Mobile point-of-sale systems were first implemented in the restaurant business. After that, they became popular in retail stores that experience large amounts of transactions and traffic daily. But now, the situation is different. As the whole world is fighting with a global pandemic, it is an urgency of the situation that you upscale your business operations to fit in the post-COVID-19 era. Right now, people are preferring touchless transactions and shopping modules, so if you are stuck with the traditional business modules, it could cost you financially.
Following are five key benefits that you can expect from a retail-based mobile point-of-sale if you want to upscale your omnichannel operation:
REAL-TIME INVENTORY AND PRODUCT MANAGEMENT
Whenever a customer has a query related to a product, you have to first look into your inventory to check whether it's in stock or not. Having a mobile POS that gives you real-time insights into your inventory and product details will come handy in this regard. Also, if you are running multiple stores, then an integrated mobile POS device will enable you to look up products in sister stores and reserve it at that location. It will also improve the customer service experience of your store.
HAND-HELD POS SYSTEM
Right now, it's in the trend. Retailers are empowering their employees with hand-held tablets that they can carry around the store as they check stock shelves and set up merchandise. Hand-held POS devices enable your employees to keep track of sales activities of the store and answer to customer's queries regarding product information and take the orders right there, etc..
CUSTOMER RELATIONSHIP MANAGEMENT
Better customer engagement and relationship management will be the key to upscale your business in the post-COVID-19 era. You should have a device that can automatically update customer's information on-the-spot from anywhere and anytime. Instead of using traditional ways to enter customer data, implement a mobile POS system to keep track of consumer's buying behavior.
BUILT-IN LOYALTY PROGRAMS
A mobile POS system will enable you to set-up built-in loyalty programs with discounts and coupons for your frequently visited customers. You can award loyalty points to customers who use the mobile POS system, which they can use next time when they shop at your store.
A MODERN WAY OF ACCEPTING PAYMENTS
Customers desire flexibility in payment modes. With mobile POS technology, you can support traditional transactions in cash, with debit or credit cards, gift cards, coupons, loyalty points, etc. It will also allow customers to pay via mobile wallets like Paytm, UPI, etc..
FUEL YOUR MARKETING CAMPAIGNS
LOGIC mPOS enables retailers to collect more data for effective marketing. Your associates can ask for shopper's email address or phone no. for email marketing or SMS marketing campaigns. They can also collect other details that can fuel your marketing campaigns.
One thing you need to understand that the age of digitalization is already here. Businesses are shifting from traditional models to digital models that can boost their growth. And mobile POS is one of the key factors in it. It's already here and slowly capturing the market. Those who will deploy it in their business models will have an advantage over those who don't.
LOGIC ERP is one of the leading mPOS service providers that's helping retailers in delivering high-tech engaging and personalized service. You can obtain detailed customer and product information in real-time and manage the data from anywhere. The simple and easy-to-understand features developed by cutting-edge technologies will help your teams to set-up retail game on-budget, on-target, and on-time.