How to Address Future Retail Business Challenges?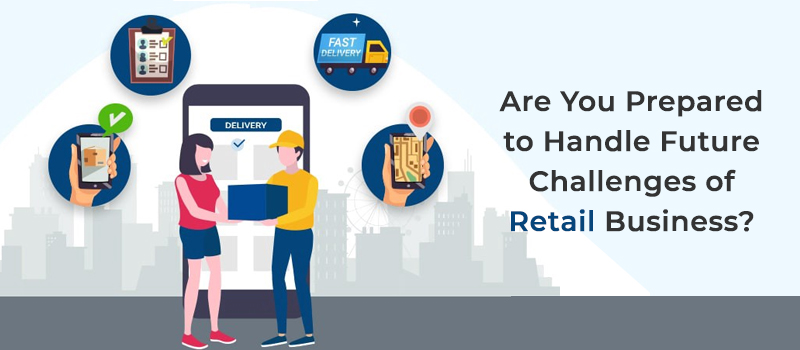 When the pandemic started and the global lockdown was announced, the first challenge that retailers faced was to cop-up with the sudden rise in essential items. At that time, many challenges surfaced like inventory management, handling sudden demand-outburst, internal theft, etc.. After that, online ordering and delivery of items was introduced at a large scale. Not only big supermarkets but many small store owners also introduced online ordering and delivery services in their businesses. In just a few months, the COVID-19 pandemic caused the disruption worth many years in the retail industry. The situation is, consumers are shifting towards necessity shopping, rather than desirable shopping. As a retailer, you have to accept these sophisticated expectations and digital shopping paradigm to persist.
The thing is, the number of online shopping customers is going to increase day-by-day, which means that the contactless payment and delivery services will become more necessary. If you are into retail business then you need to follow the following pointers to improve shopper experience and maximize your profit share:
Have the courage to evolve with the trend
Part-time services are becoming must-have services now. Click-and-collect and same-day deliveries are now standard expectations for consumers. Most of the users even opt for prime services or pay extra bucks at eCommerce websites to schedule same-day delivery. If you want to change customer actions and perceptions then you have to evolve your business constantly. Try new things that can help your retail business grow. Use social media, for example, to interact with the customer, then take it further by creating a purchaser journey via social media channels.
Focus on your omnichannel strategy
When the effects of the pandemic were high in the previous months, retailers realized the importance of omnichannel stack. Those who already were using an omnichannel strategy had an early start compared to others when the world morphed overnight into the lockdown state. As for the ones who are still rebuilding business strategies must focus on structuring omnichannel as a primary approach. It will definitely pay-off in the long run. Features such as contactless payment, faster check-outs, inventory synchronization with stores, chatbots, etc. are now a necessity to run a business.
Remove familiar silos
Analyze your previous records that contain information like customer data, sales data, etc.. Then reassemble CRM systems and POS systems, and break down the siloed media-buying practices. If you want to outrun your competitors, firstly streamline your services to deliver a smooth customer experience. Give up old silos by introducing new tactics for digital retail operations (like cloud-based ERP models) and reconfigure your teams.
Upgrade your business model with a mobile integration
One way to tackle the current retail challenges is mobile integration. To provide online shopping and touchless payment experience to the customers, you have to incorporate mobile innovations with your current business model. For example, with LOGIC AapTak App, you can introduce online ordering, collect online payments, send e-bills, and schedule home delivery of items.
Earlier, brick and mortar stores were ruling the retail industry, but now, the tables have turned. The E-commerce industry is prevailing right now and will continue in the future too. Your utmost priority should be to manage the data and power of the audience to improve your customer touchpoints. If you want to know how cloud-based and on-premises solutions by LOGIC ERP can help you to thrive in your retail business, contact us now.