Lasting Impact of COVID-19 & its valuable lesson for Retailers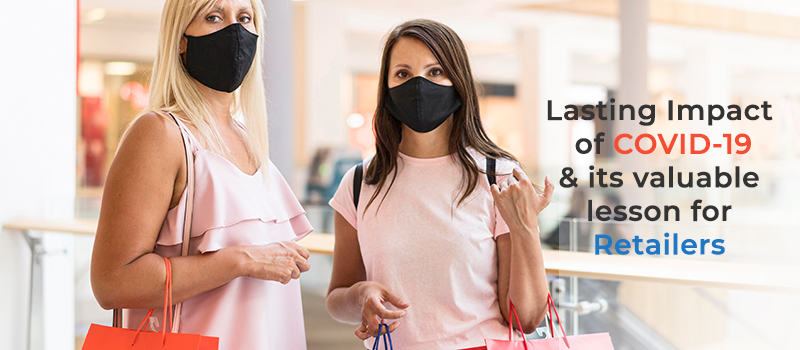 One thing that COVID-19 taught to retailers is that the use of modern ERP solutions that offer omnichannel, cloud-native, multi-billing, and microservices is inevitable if they want to address rapid change in shopper's demand in the future.
We can't deny the fact that it was necessary to impose a nationwide lockdown to protect people from getting infected, but it also sent a shockwave of gathering supplies in the retail sector. As a result, many retailers failed to cope up with a sudden rise in demand and faced out-of-stock, understock issues. According to GlobalData, global retail spending fell to $549.7 billion (estimation). When the lockdown lifted, the retailers started reflecting on the lessons learned from the pandemic effect on commerce. It was necessary as it not only covered the business growth but also employees that work for their business. They have to better prepare in case another crisis strikes in the future.
The retailers that deal in foods & beverages, or grocery stores & supermarket businesses were most impacted by the unexpected change in shopper's demand. Even some websites experienced long virtual queues and crashed because of the huge traffic. Not only that, the retailers that only deal in physical stores have to face huge gatherings in their stores, which not only increased the danger of community spreading of the virus but also raised questions on their inventory and billing management.
IMPORTANCE OF RIGHT TECHNOLOGY
One important lesson that every retailer should learn from this pandemic is the importance of the right technology at the right place. Like, a modern ERP system architecture that can help them better address rapid change in market circumstances. As a retailer, you have to understand that your legacy ERP system cannot support all the required functionality. You have to upgrade to a better version if you want to cope up with the sudden change in shopper demands. You have to find a way to move your business online eventually. Logic ERP cloud can help you to be on the front foot no matter what happens in the retail sector.
MODERN ERP TECHNOLOGY IS KEY
An ERP solution that keeps you updated regarding the changes that occur in the market can help you better prepare for future disruption and address changing circumstances. Take the example of TCS (Tax Collected at Source), implemented by the Indian Government from 1st October 2020. Logic ERP has already introduced the feature in its on-premises and cloud software to help retailers calculate the TCS so that they do not waste much of their time on it. Not only that, the retailers can use mobile apps solutions like the AapTak app and mobile reporting by Logic ERP to take complete advantage of the ERP cloud benefits.
You have a clear opportunity to improve your business process by adopting the Logic ERP cloud software solution. The technology copes automatically when there's a sudden rise in online orders. You don't have to spend additional resources if your commerce channels are overloaded. There's also an advanced stock replenishment mechanism to refill the inventory of stores or branches whenever you are low on stock.
A QUICKLOOK AT TECHNOLOGY FOUNDATION
The pandemic let the retailers think over their existing business modules, whether they were scalable enough to tackle unseen challenges? Everyone started experimenting with new ideas and features to maintain sales, handle inventory levels, and ensure customer loyalty. Those who were still hanging onto legacy ERP business models surely faced a lot of issues during the COVID-19 pandemic.
Retailers that did not benefit from the modern ERP systems during pandemic needs to review their current business structure as soon as they can. They need to be more agile so that it's easy to adapt to changing circumstances. Not having the right tools will only hold them back, making the processes more complicated and inefficient, which in turn may lead to a business model breakdown.
However, with Logic ERP cloud, you can implement new features quickly, improve customer's shopping experience, automatically manage inventory, sales/purchase, billing, etc.. It would be easy to scale with increased customer demand – without slowing down your business operations. Remember, COVID-19 is not the last unexpected global crisis to occur. As a retailer, you have to think ahead for the sake of recovering from the coronavirus fallout, and better prepare for the future.