Role of Technology in Tackling Upcoming Kirana Store Business Challenges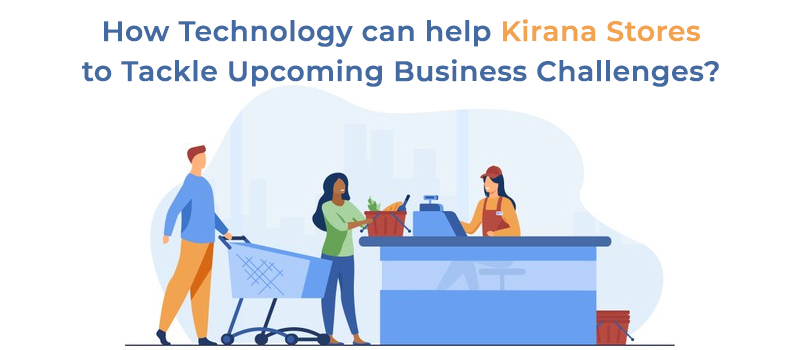 Since the COVID-19 outbreak started, the retail sector witnessed some drastic changes. If we look at the stats, then, according to Mitsui & Co. Global Strategic Studies, there are around 13 million small and medium Kirana stores. During the 1st wave of coronavirus, the government enforced some strict regulations, which became a challenge for retailers as they weren't ready for such changes. Some of the challenges were:
Cash flows

Online Ordering & Delivery

Maintaining social distancing

Logistics issues, etc.
One of the major issues that almost every Kirana store owner faced was the sudden rise in the essential goods during the pandemic period. Consumers started to gather in abundance to stock themselves with essential items. But, on the other hand, the majority of retailers were not well equipped to meet their consumer's demand. Logic ERP, which works with thousands of Kirana stores across the country analyzed the situation and took certain actions to make them omnichannel.
Although many aggregators are helping Kirana business owners in ordering and delivery, it costs time or money. On the other hand, Logic ERP launches its mobile app, 'AapTak' that brings them added control to provide a better online shopping experience to their customers. You have to accept the fact that this is a technology-driven world. If you don't have the right technology at your disposal, you will fall behind. You might be doing your best to contribute to society, but Logic ERP is also here to ease the financial burden of your Kirana store business.
The surprise attack of the global pandemic helped us learn one thing for sure, "you need to be ready for any kind of situation, there are no excuses while running a business." Logic ERP understood this better and came up with a set of technologies that will help retailers in the long-run. Let's see why introducing technology is so important to run a Kirana store in the current era:
As said above, there are around 13 million Kirana stores in India. It means there are 10 stores per 1000 people, which is the highest density if we compare it with other countries. And among these 13 million, less than 3.5 million Kirana stores are using any sort of tech platform. Approximately 20-25K have digitized their operations on payment with mobile apps, ordering, or delivery. The reason for this is, the majority of Kirana business owners do not know the importance of digitalization. As a business owner, you have to understand that to address changing consumer behavior, you have to give up on traditional ways of running a store and introduce next-gen technologies.

Kirana store is an all-season business. Even though the other stores are shut-down during a public holiday, the Pharmacy and Kirana stores continue to function while taking all the precautions needed to keep their staff safe. In the current scenario, people are preferring to place online orders via phone calls, WhatsApp, mobile apps, and requesting home delivery. And to make this process simple, Logic ERP is helping Kirana store owners in becoming an omnichannel business.
The Lockdown and the curfew across every state in India forced many big supermarkets to close down or do remote deliveries to reduce crowd gathering and prevent coronavirus from spreading. Because of this, people returned to their neighborhood kiranas for weekly or daily essentials. And one challenge that kiranas always face is to keep their stock level up-to-date. During the pandemic time, the majority of distribution players have to shut down their production and manufacturing business, except for vegetable groceries, pharma, and milk distributors. But now, retailers are starting to strengthen their supply chain management to serve the consumers when there's an emergency like the covid-19.
The national lockdown led to faster adoption of technologies by both business owners and consumers. Not only for remote working, but kiranas are also using technology for digital payments, inventory management, online ordering, contact-less deliveries, and sale/purchase management. AapTak App, auto-stock replenishment, Paytm Dynamic QR code, there are plenty of apps and features introduced by Logic ERP in the last couple of months to help businesses grow and serve their customers.