Redefining E-commerce: Trends That Will Shape India's Online Industry In 2021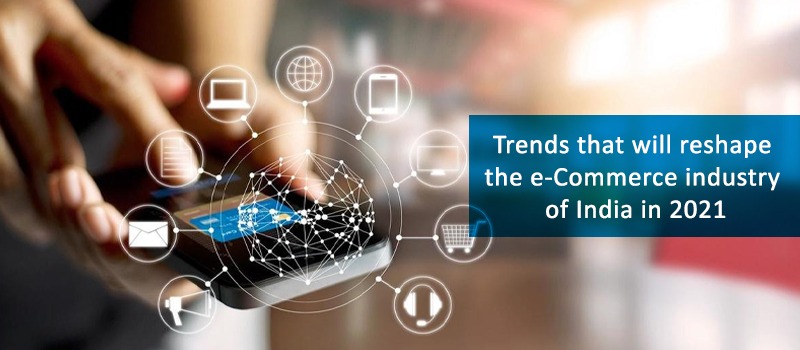 As the terror of COVID-19 is still on the rise, companies that fall under several verticals are still facing difficulties in their revenues and business. But for e-commerce industry, 2020 has been a good year. And on top of that, it will reshape the structure of India's online industry in 2021. Various trends affected the e-commerce sector as it triumphed against all odds this year.
Now, as 2020 is about to end, and we will be stepping into the New Year, we should take a look at some of the trends that will affect the e-commerce industry of India in 2021:
DIGITIZATION OF STORES
In the past few years, more and more businesses started adopting technology across the county. And since the pandemic struck, it accelerated even further. The rise in internet proliferation, smartphone usage, and online shopping gateways encouraged consumers to try online shopping methods like online shopping apps, and social channels like Whatsapp, Snapchat, Instagram, and Facebook. In 2021, the digitization of the stores is to expand on a larger scale as small and medium scale businesses are also joining with the race.
Also, with the cutting-edge Logic ERP cloud technology, you can enhance the customer shopping experience with mobile POS, feedback management, real-time product visibility, providing special discount offers, etc… Not only that, with the Aaptak mobile app, you can enable consumers to shop from your store via mobile app, while you expand your customer base further.
OMNICHANNEL BUSINESS STRATEGIES
This year, the world witnessed the shift of shopping preferences of the consumers as we slowly moved towards more safety-conscious preferences. According to Deloitte State of the Consumer Tracker, about 73% of Indian consumers were willing to spend more capital just for convenience. Due to this, businesses are willing to provide a better customer shopping experience across various channels.
Brands are now focusing on providing more personalized and targeted experiences for enhanced customer satisfaction, retention, and acquisition. They are bolstering omnichannel business strategies and adopting customer-centric business models. In 2021, there is going to be a huge rise in the BOPIS model, especially in the FMCG and low order value clients category.
THE UPSURGE IN DIGITAL PAYMENTS
In 2020, we witnessed a massive upsurge in the number of Indian consumers that preferred digital payments over cash transactions. Since social distancing was necessary, the consumers prefer to avoid paper currency as much as possible. Even the NPCI (National Payments Corporation of India) asked people to avoid cash if they don't want to get infected with the virus. Following their lead, even the people who aren't tech-savvy jumped on the digital payment bandwagon. In the upcoming years, the number of users who will prefer digital payments will increase even further. That's why Logic ERP software has integrated with various online wallets, Paytm EDC machines, etc., to allow your consumers to pay via credit/debit cards, UPI, wallet payments, QR scanning, etc…
Although the Indian e-commerce industry suffered a little damage at the start of the global crisis, it is now recovering at a steady pace. And if you do not want to lag in the upcoming 2021 e-commerce trends, then it is time to rethink your business strategies and try out Logic ERP cloud and on-premises business solutions.