ERP Technology Redefining Fashion Retail Business in 2021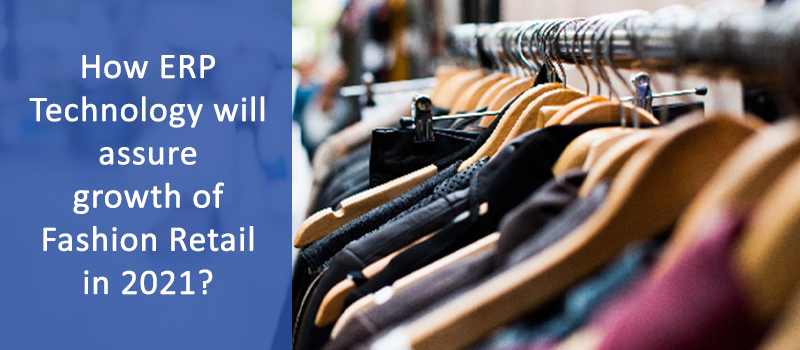 In the fashion products segment, the retail corporation is gaining more importance to enhance India's retail ecosystem. Back in the year 2020, when the COVID-19 outbreak started, many issues arise, such as:
Increase in inflation,

Falling GDP,

Global Financial crises,

Increase in unemployment,

Shutting down of businesses, etc.
This made Indian Fashion retail customers as cautious as to how & when to spend the money. But now, the situation is different. The fashion industry has entered the positive phase, which is something to celebrate. In the past ten months, many experiments were done regarding how to enable small & medium scale retailers to sell their products online. 
ONLINE RETAIL & ERP SOFTWARE
During the COVID-19 outbreak, the number of e-commerce shoppers doubled, which is a great thing. One thing we need to understand is that the Indian fashion industry is huge. Every consumer has different tastes that evolve. And because of that, retail businesses have to change their formats and product portfolios periodically. Ever since online shopping became a thing, consumers have become time-pressed as the technology is easily accessible to everyone. This is why online retail is going to expand even further in 2021 and the upcoming years. Online stores will provide easy access to fashion-wear across brands, comparing service offerings, prices, consumer feedback and opinion, discounts, etc. And to manage your e-commerce presence or online stores, you need reliable ERP software that can streamline your retail operations & provides you periodic analysis of the business.
THE NEW AGE TECHNOLOGY
Digital innovations are providing a great support system and relevant business models for the retail industry. The new age Logic ERP cloud technology will not only improve the supply chain and inventory management, but also provide a deep understanding of changing consumer demands, buying behavior, and business performance. The detailed data insights provided by customizable reporting will help you take timely actions to make your fashion retail business more profitable with a better customer experience and product management.
DIGITIZATION OF OFFLINE RETAIL OUTLETS
As the consumers are preferring online payment and shopping modes, the offline retail sector has to adopt digital retail technologies to improve the customer shopping experience and online presence. They have to adopt technologies that can help them aggressively compete with online stores. To reach out to more customers, try improving the omnichannel presence also. Installing digital payment modes, touchless POS will add value to business productivity.
Remember, a poor infrastructure will only increase inventory costs, causing supply chain hurdles due to bad management, leading to mismanagement of retail operations. The business sector is powered by technology innovations, and Logic ERP with its cloud & on-premises services, mobile applications, and touchless POS is providing a reliable solution for fashion retail enhancement. Provide a personalized shopping experience to your customers by adopting retail business solutions and create a new business value by establishing a profitable business model to compete in a dynamic market.