Why Inventory Management Is Necessary to Grow a Small Business?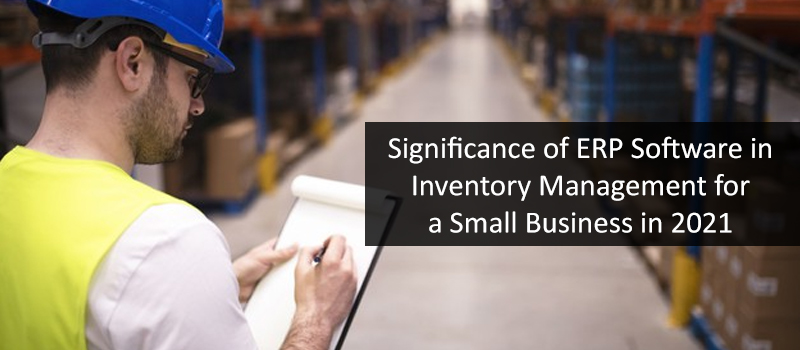 No matter what type of business you run, whether it's a retail, distribution, or manufacturing business, inventory is one of the integral parts that hold up the whole model. You have to maintain an accurate ratio between demand and supply by analyzing your inventory items periodically. To ensure visibility across the inventory process, you need a reliable software solution that gives you real-time updates regarding:
Availability of necessary products

Sell/Purchase details of new stock

Out-of-stock products

Low inventory level alerts, etc.
An ERP system with an integrated POS and inventory management system can help you accurately analyze market demand and ensure the availability of stock when needed.
WHY FOCUS ON INVENTORY MANAGEMENT?
One mistake that most small businesses make is overstocking their shelves, due to which items turn rotten or end up collecting dust. It results in wastage of money and affects business productivity. Also, if you have a low inventory level, the customers might not get what they need and you will end up losing your potential customers. Both situations are trivial for a business and can bring losses instead of profits. That's why, reliable inventory management is necessary to stock up the goods when they are running low, send real-time alerts, and help you meet the potential demands while keeping warehouse management costs under control. Also, the orders should get fulfilled on time.
BENEFITS OF ERP SYSTEM FOR INVENTORY MANAGEMENT
Inventory management is a tricky task to handle. If you don't handle it properly, it can backfire your business and harm the revenue and reputation. Logic ERP cloud & on-premises software system can help you overcome this. You can automate the inventory tracking process, get real-time stock movement insights, prevent overstock and under-stock issues, forecast customer demands, etc. Let us look at some benefits of an ERP software system for small businesses:
REAL-TIME DATA INSIGHTS
If you want to make the most out of your inventory, you should know about the stock movement inside out, such as – products that sell the most, how much stock needs to order, customer shopping interest, etc. Logic ERP software system provides real-time reports about inventory movement that comprise detailed information in a structured manner. You can precisely plan your spending to generate more profit by reviewing sale orders reports.
IMPROVED CUSTOMER EXPERIENCE & ORDERING
With an effective inventory management module, you can ensure that customers get the correct products on time. It will have a positive impact on their shopping experience and eventually, your consumer base will also improve. You can also integrate a feedback management system to ask about the buyer's shopping experience at your store. It will help you to determine the flaws in your current business processes.
MULTI-LOCATION MANAGEMENT
To manage and gain visibility across different stores functioning at multiple locations, you need a cloud-based ERP software system that can integrate multi-store within a single location. This way, you can manage the inventory of all the stores from anywhere and anytime. The Logic ERP cloud software enables syncing of all business data in a single database that you can monitor and manage more efficiently.
MINIMIZE STORAGE COSTS, IMPROVED WAREHOUSE MANAGEMENT
Logic ERP software system helps you in keeping storage units more arranged. You can categorize the products, map the inventory space, and allocate storage bins accordingly. You can integrate the inventory management module with POS billing or barcode scanner so that you get real-time updates on inventory movement and stock level. By doing so, you can reduce storage costs by improving warehouse space utilization.
REAL-TIME INVENTORY TRACKING
The Logic ERP cloud and on-premises software can help you automate manual tasks including tax calculations, invoice generation for purchase orders, updating stock data, etc. It will save your time and effort and will minimize the chances of manual mistakes.
You can accrue various benefits from Logic ERP cloud & on-premises business software. High revenue, lower operational costs, and the ability to cope up with dynamic market conditions are what you need if you want to grow your business in 2021. With Logic ERP, you get a highly compatible and reliable inventory management module to impart flexibility and growth.