Role of ERP Technology in Fashion Retail Business in 2021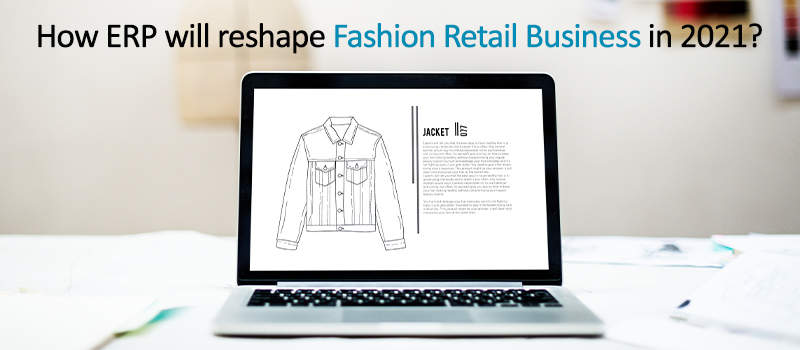 The pandemic has affected all the sectors across the globe in a drastic way, especially the fashion retail business in developing countries like India. In addition to the pandemic, falling GDP growth, increasing inflation, and unexpected financial losses have made the Indian fashion product consumers even more cautious about where to spend their money. Nevertheless, the world is keeping its hopes high and looking forward to entering a more positive phase soon, where even the fashion industry will have something to cheer about.
Things that might work in its favour include a highly enthusiastic demographic having a growing number of young fashion-conscious consumers willing to experiment with both ethnic and international brands. The reason being, fashion goods in this modern world are not occasion-specific or need-based; instead, they are a reflection of one's personality, aspiration, and status.
THE INDIAN FASHION INDUSTRY
The Indian fashion industry has come a long way with continuously evolving as per the consumer's growing disposable incomes and confidence levels along with their exposure to global markets and brands.
Since the Indian consumers are value-driven and highly aspirational, having rapidly changing tastes, they are driving the fashion retail business to change product portfolios and retail formats continually.

Modern consumers are time-pressed but have easy access to technology, leading them to online retail gaining importance while showing signs of growth in the future at a comparatively faster rate.

With this rising demand and customer behaviour, online stores are all set to add the accessibility of fashion-wear across brands with a comparison of prices, discounts, service offerings, feedback, and the opinion of consumers in order to influence their buying decisions.

Not only this, but it will also create a surge in the market for the availability of global brands with several discount offers and customized products while creating content that will dominate online retail platforms.
ONLINE RETAIL AND ERP SOFTWARE
The COVID-19 outbreak led to a doubling in the number of e-commerce shoppers. But we must not overlook the fact that the Indian fashion industry is huge, where every consumer has different expectations and needs that evolve with time. It makes retail businesses change their formats and product portfolios periodically.
Also, with the evolution of online shopping, technology became more accessible, which is why online retail is expected to expand even further in 2021 and the upcoming years. It will not only enhance the existing online stores; but will also provide easy access to fashion-wear across brands. And if you want to manage your e-commerce presence or online stores, a reliable ERP software is a must that can help you streamline your retail operations while providing you periodic analysis of the business.
THE NEW AGE TECHNOLOGY
Digital innovations led by the technological revolution are providing us with a great support system and relevant business models that perfectly align with the needs of the retail industry. For instance,
The new-age Logic ERP cloud technology can not only improve the supply chain and inventory management but can also help us by offering a deep understanding of changing consumer demands and their buying behaviour in addition to business performance.

We can also benefit from the detailed data insights provided by customizable reporting that can be used to take timely actions, making your fashion retail business more profitable with a better customer experience and product management.

Retail technology and digital innovation substantially are the gateway to opportunities for creating new and relevant retail business models while enhancing operational efficiencies and business outcomes.
DIGITIZING THE ONLINE RETAIL OUTLETS
Technology is simplifying our lives while making us more adept at options that are easy to use. Consumers in the modern landscape prefer online payment and shopping modes, which makes it crucial for the offline retail sector to adopt digital retail technologies for improving the customer shopping experience and online presence.
They must harness technologies that can assist them aggressively while competing with online stores, to reach out to more customers and improve their omnichannel presence. Some easy yet useful ways can be installing digital payment modes and touchless POS that can add great value to their business productivity.
Always keep in mind:
Poor infrastructure is of no good and will only increase inventory costs while causing several supply chain hurdles because of bad management that can lead to mismanagement of retail operations.

The entire business sector lays its foundation on technological innovations, such as Logic ERP with its cloud and on-premises services, mobile applications, and touchless POS, offering a reliable solution for enhancing the fashion retail environment.

Your customers are more likely to be satisfied if you provide a personalized shopping experience. The same can be achieved by adopting retail business solutions to create new business value by establishing a profitable business model that competes in a dynamic market.



FINAL WORDS
No journey is uniform, ups and downs make it worthwhile. But the extent of damage caused by such happening can be decreased if we use technology in a strategic way. Technologies like apparel retail software, cloud technology, and ERP software, can greatly enhance the fashion retail business while reshaping a bright future for the same. One only needs to get started while knowing the true potential of such technologies and how they can be deployed in the best manner in order to get the best outcomes.