ERP Modernization: How the Cloud ERP Delivers Scalability, Security and Innovation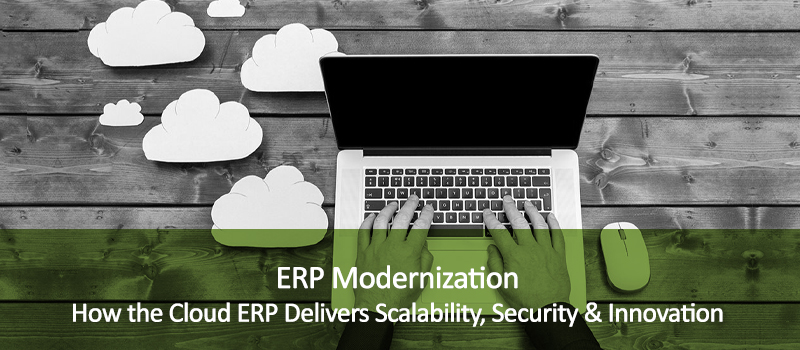 In this highly competitive modern landscape, organizations need to shift to ERP software if they want to build a cognitive business; since it can help them streamline processes while intelligently utilizing real-time data to promote operational efficiency, enhance collaboration, and quickly respond to changes. A cloud-based ERP system can help you run all the mission-critical business operations throughout your organization, such as accounting, production, payroll, distribution etc.
With advanced technologies like machine learning and artificial intelligence (AI), chatbots, and process automation, taking over the world with a speed faster than light, it becomes even more crucial to harness the power of cloud ERP software to drive scalability, security, and innovation. It is equally important that the same is done with high speed and accuracy, and still having the capacity to handle more data and users. ERP software offers it all, which is why industry leaders across the globe are now turning to ERP modernization.
Do you require ERP Modernization?
It is quite hard to be certain of the time when your ERP software needs to be updated. However, if your current on-premise deployment is unable to adjust as per the changes taking place in your organization, it is a sign that you should start getting familiarized with the modern ERP system. If you are experiencing any of these restrictions, irrespective of your industry type, you most likely need a modern cloud-based ERP system.
If your existing on-premise system needs an expensive project as it ages past support dates, and your competitors are already deploying cloud solutions.

When your next-gen employees start complaining about usability, asking: why can't their ERP function like smartphone apps.

Management reporting using your existing ERP software has become too complicated, and its physical infrastructure is past due for an expensive capital replacement.

If the system fees and service costs are increasing annually, and the growth in disconnected systems and enterprise data starts conflicting answers to key questions.

If you handle international expansion, mergers and acquisitions, and core market growth via your on-premise ERP.

Increasing financial and compliance requirements impact your enterprise, and your business fails to keep up with the increasing demands.

You are all set for a public offering, requiring stringent financial information and controls.
How Cloud ERP Delivers Modernization?
The adoption of new and cutting-edge technologies along with the changes in the business environment are accelerating the need for ERP modernization. A cloud ERP software offers a lot of benefits for your business and can modernize it in multiple ways by offering:
Boundless Scalability
One can get rid of the burden of spending on hardware and internal IT resources just by adopting the cloud platform. You'll only have to pay annual or monthly for your ERP subscription to ensure that your ERP system runs efficiently and faces zero breakdowns. Not only this, but the cloud-based ERP system also increases the nimbleness.
A cloud ERP software also allows you to buy whatever you need at the moment, and later on, you can scale up or down the features as per the requirement. This scalability, offered by the cloud ERP software, helps you improve dependency on the system since it can quickly adapt to accommodate the changes in operations, users, and data as your business grows.
Multi-layered Security
Secured access and use of data, is one of the most important reasons for ERP modernization since businesses are increasingly becoming data-driven, and valuable data is more vulnerable to attacks. But ERP modernization can help you tackle the same efficiently.
A modern, cloud-based ERP software offers a multi-layered security infrastructure model that helps you define user-specific authorization (i.e., only the authorized personnel will have access to the database). It also facilitates you to keep track of the user activities so that you can eradicate any chance of data breaches or unauthorized access.
Adapting Innovations
Innovations are often associated with the use of new technologies. It's getting easier to drive innovation since businesses are harnessing emerging technologies, such as machine learning, chatbots, and Artificial Intelligence to improve their existing processes and increase opportunities.
But to make the best of these technologies and avail their benefits, they need the right platform that supports their business vision and seamlessly connects with their ERP application. And what better option than a cloud-based system that facilitates this and allows ample flexibility for including more innovations.
Final Words
Irrespective of which inflexion point represents your organization, you must keep in mind a few components of a modern ERP that must be addressed as the top concerns while moving to the cloud. It includes: security of your business data, seamless integration of new ERP software, having customer-specific business practices, focusing on emerging global markets for business expansion, and having insight-driven analysis in addition to strong digital capabilities that can support your ERP modernization.