7 Ways in which Technology and Software can help your Retail Business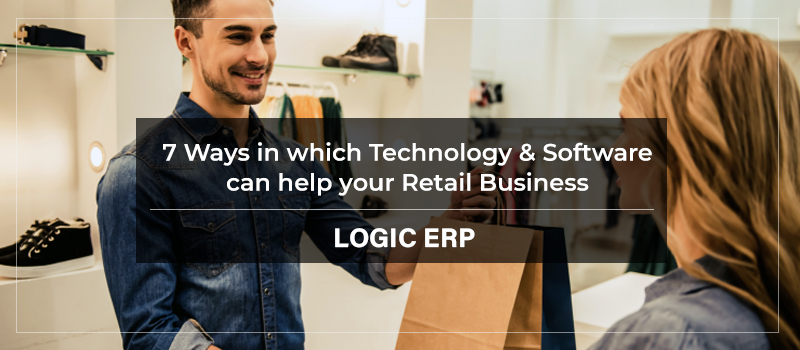 In the past few decades, software and technology have had a remarkable impact on the retail business. Rather than going to a store, consumers are increasingly more likely to use their smartphone to look for and purchase things online. Whereas, the traditional retail shop remains a top priority, and it is very crucial that they stay up with the latest technological advancements in the business. There was a recent poll which was conducted by PWC, and the results were oddly fascinating. In the home decor market, 45% of worldwide consumers prefer to do their online research before buying a product. Following that, 59% of customers prefer to shop in person.
Today's retailers are expected to operate with efficiency, agility, and speed. Retailers should engage in an automated inventory management system, a point-of-sale system, a statistical forecasting system, and a central database to do this. These tools do more than just lower your costs and improve your planning. They've evolved into crucial instruments that can provide you a competitive advantage and help businesses thrive and expand in the market. Here are seven ways in which Logic ERP's software can help your retail operation.
Adopt a just-in-time supplier relationship
To relate purchasing more precisely to customers' requirements, forecasting technologies work in unison with sales systems, inventory control, and a central database. As a result, inventory can be reduced and a just-in-time connection with suppliers can be established.
Enhance your forecasting abilities
Demand forecasting is significantly more accurate and calculated with mechanized statistical forecasting techniques.
1. Data from previous sales, predictions, and prospective orders are all stored in one system. As a result, more precise estimates based on the entirety of this data can be formed.
2. Through interactive web-based programs, forecasting systems can access every line manager's workstation, incorporating chain-wide input (if required) into the process. After this, the forecasts can be filtered to take into account all factors.
3. Fast predictions and scenario planning are made easier with Logic ERP's retail software.
Keep your transactions in check
Within your pre-set parameters, Logic ERP's inventory control system can recommend markdowns and pricing, and/or track your earnings based on the prices you input. Their retail software will also keep you informed about net profits at all times. You never lose sight of your margins, even when exceptional pricing offers are made. For example, you can set various pricing for different locations in different geographic regions, as well as for valued consumers like staff or significant buyers. Markdowns can also be pre-programmed for end-of-season or other sales. The system continues to monitor gross margin, taking into account preferred pricing and markdowns.
Inventory management made easier
Internal theft and price mistakes can gobble nearly 4% of retail inventory. Manual counts are substantially slower and less accurate than using a portable terminal. Logic ERP's retail software detects pricing problems and missing products on the spot by flagging differences with registered inventory levels and verifying pricing.
Increased customer satisfaction
Clients expect you to know whether a product is in stock or on backorder. They don't want to be kept waiting as you look around the warehouse or call the warehouse. With an automated inventory control system, you may quickly respond to consumer questions with a few clicks. If you have many stores, you may also check the inventory kept by each one.
Reduction in inventory costs
In today's retail environment, an inventory control system is a must-have. It enables you to keep track of what inventory you have on hand and on order, as well as how many of each commodity you have purchased and distributed. When things sell or travel from one location to another—for example, from a warehouse to a store—these technologies update your database instantly once set up. They also offer a number of real-time data analysis tools to help you maintain track of your company. Once you're online, you'll have access to every detail of your store's effectiveness. Choose products based on their UPC codes, date received, first or last date bought or sold, price, margin and cost. Improvisations with hundreds of subcategories of color, size, and style can be created in minutes.
Automate your inventory management process
By referencing each retailer's sales history to compute the ideal stock levels for each product, electronic inventory management systems can minimize excessive ordering and limited buying. You inform the software how many days of supplies you want—which you can change depending on the season—and it looks at previous sales records to figure out when you need to restock.
Conclusion
Consumers have become increasingly tech savvy, and they anticipate brick-and-mortar retailers to follow suit. It's crucial to keep your brick-and-mortar business tech savvy as well as having an internet outlet for your retail firm. Customers' expectations have shifted significantly as well, with the majority of them expecting a fast-paced as well as flawless buying experience, whether in-store or online. Consumers no longer want to browse for hours in stores. Instead, people prefer a quick and efficient shopping experience, both online and in-store. In the retail industry, technology and software play an important role. They're essential if you want to meet the needs of today's digital consumers. It's critical to assess your business and include technology and software that will help your retail store develop and succeed in the future. Logic ERP's retail software can help you with that.