When Should a Multichannel Retail Organization Install an ERP?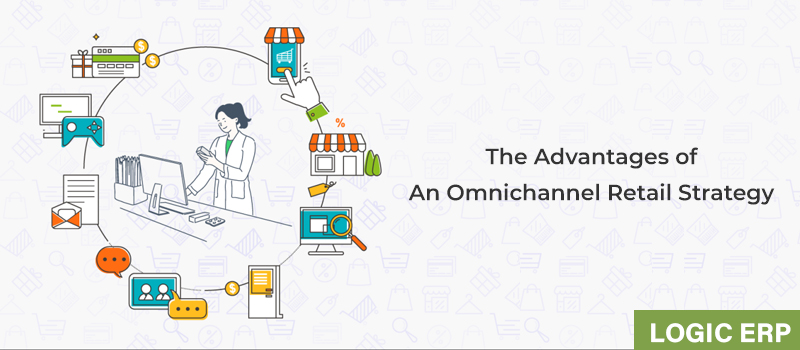 A multichannel/omnichannel retail enterprise resource planning system is one that is focused on all channels. It enables a company to centralize and streamline workflows, procedures, and data to provide a consistent shopping experience throughout all digital devices and platforms. For merchants to succeed, they must provide an omnichannel experience. An omnichannel ERP can help a firm succeed in the retail industry by allowing it to operate across different channels. It's critical for delivering a flawless purchasing experience. In this post, we'll look at when an ERP system for multichannel retail should be implemented and how Logic ERP can help you with it.
When you wish to sell across various online marketplaces and stores
eCommerce incorporation is essential for any expanding retailing industry. To keep up with the company's growth, they must be scalable and flexible. The ERP would have to incorporate every platform where users can buy, whether it's the business's store or online stores like Flipkart and Amazon. With the help of Logic ERP, you can also request for real-time inventory updated information. This implies that the company is almost never caught off guard during seasonal peaks incidents like lightning deals or an unexpected swell in order requests.
Hyperlocal omni-channel retail management
Multichannel retailers are much more likely to use a diverse range of webpages, storefronts, and local markets. They recognise the importance of being available where the customer needs them. The chosen ERP system is expected to cater to the need for multiple storage locations. It should be able to communicate via a destination-specific channel. This enables the firm to bring forth a harmonious customer experience across multiple sites, effectively approaching the customers.
It's either real-time retail or crash
Without the essential technology solutions, being able to operate through multiple networks is difficult. Accounts, orders, warehousing, and inventory must all be managed in a timely manner by enterprises. When researching new ERP systems, discover just how much the flow of information is linked and how frequently upgrades are executed. To make sure that customers are never frustrated, this ought to be done in real-time or close to real.
When a CRM Tool Isn't Enough
One of the most crucial objectives of multichannel retail is to fully understand the buyer persona. This enables businesses to provide targeted recommendations, rapid assistance, and a coherent purchasing experience throughout the customer lifecycle. Customer satisfaction is impossible to achieve if the CRM does not collect precise customer data. Our advice is to look for technologies that enable simple flow of information across the establishment, whether it be in online shopping or a physical store. This ensures that the customer has a consistent experience and receives the same standard of service and data irrespective of who they interact with. Each order, support ticket, email, return request, and real-time chat interactivity should immediately update your ERP, transforming it into a single source of truth.
A centralized alternative, such as Logic ERP, simplifies the record-keeping process. For instance, if an user happens to change their address or contact information, the system will automatically update it both digitally and in your system.
When the Point of Sale System Isn't Working
The benefits of physical and online stores are well understood by omnichannel retailers. An effective POS system is essential if a firm wants to make a lot of in-store sales. Current ERP systems include point-of-sale functionality. This ensures that data travels swiftly between channels.
When a Business Needs Retail Automation
Automating processes so that staff are only accountable for significant tasks is one of the common approaches to do this. If the preferred ERP vendor includes automation to be a part of the services provided by them, the organization should make utmost use of it. Inventory modifications, shipping notifications, transaction log generation, fulfillment, updates regarding the orders, and channeling to the right warehouse can all be managed through automation. This frees up time for the company to focus on strategic initiatives like launching new and innovative products, expanding into new markets, improving customer journeys, and coming up with creative new methods to keep customers coming back.
Conclusion
The goal of multichannel retail is to provide a seamless experience to the consumer, whether on a smart phone or in a physical store. However, without the correct technology, this is nearly impossible. Logic ERP has been a trailblazer in developing unique shopping technology solutions, such as ERP software, to enhance the multichannel retail experience.