Garment ERP Software and its Importance in Apparel Industry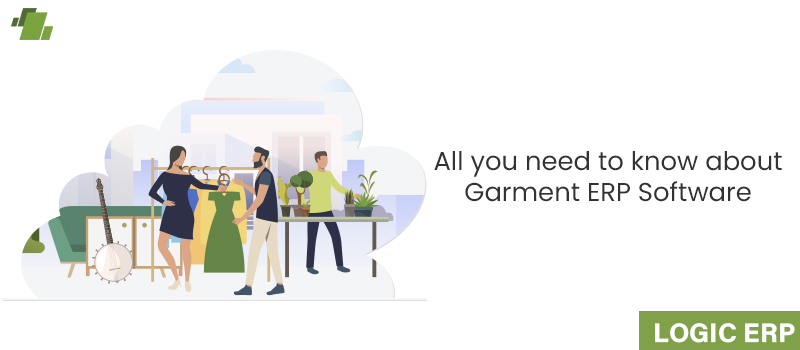 If your clothes firm is fast expanding and you're seeking methods to enhance productivity, you might think about implementing garment ERP software. An enterprise resource planner (ERP) is a software application that assists businesses in better managing their processes. In this blog, we will define a garment ERP system, what it can accomplish for your business, and how it can assist simplify processes.
What is Garment ERP Software?
Garment ERP software is an enterprise resource planning tool that assists organizations in the clothing sector with inventory management, production management, and ordering more supplies as needed. It assists companies in saving money and increasing revenues by automating many of the day-to-day chores associated with running a business. It gives them a more comprehensive perspective of all their local and global activities via a single platform where all information is kept. A garment ERP can be installed on-premises or in the cloud.
7 Advantages of utilizing Cloud-Based Clothing ERP Software:
Improves Cooperation and Collaboration
Many clothing firms still rely on spreadsheets or emails to share data between the many groups responsible for designing and manufacturing items. A garment ERP solution may assist you in streamlining your operations so that the appropriate information reaches the appropriate people at the appropriate time. It enables teams to discuss information in real-time, resulting in fewer communication mistakes and misunderstandings.
Improves and Simplifies Operations
Garment ERP software may assist in streamlining this process by decreasing manual duties and increasing productivity. This involves standardizing production processes to ensure they adhere to best practices in the garment sector, such as maintaining a continuous workflow at each stage of the process, to simplify operations and save time. By integrating all components of product development into a single unified system, you will save time on data gathering and entry, resulting in less staff effort and cost savings for your company.
Improves Decision-Making by Centralizing Data
The ability to centralize information is one of the most effective advantages of a garment ERP solution. This means you have constant access to all important facts, allowing you to make better judgments and change them as needed.
A centralized garment ERP system is useful for the following reasons:
You have access to more information in one place allowing you to see the broad picture and capitalize on opportunities that arise.

With new data sources, your team members may more easily cooperate on how to effectively serve your clients in real-time.

A centralized system allows managers at all levels to view the broad picture more easily.

Access to unified real-time data is critical for every modern fashion firm in the age of big and predictive analytics.
Lowers Supply Chain Risks by Keeping All Partners up to Date
Supply chain risks are reduced by minimizing supply chain inefficiencies. By connecting over a single ERP interface, you may avoid surprises that could jeopardize your organization. Sharing information lets each partner in your supply chain understand how their activities influence other sections of the chain, making their work easier and more productive since they know what to do.
Enables You to Manage Inventories from Anywhere in Real-Time
Inventory is your most precious asset, and a company's performance is determined by how well it maintains its inventory. You must constantly monitor inventory, from raw materials and finished goods to supplies, work-in-progress items, and even samples. A solid ERP solution will assist you with inventory management by combining internal and external budgets and objectives, allowing you to access all vital information from a single source. It will also allow you to manage inventories from anywhere, thanks to mobile access to the system via tablets or smartphones linked to the Internet.
Allows Your Company to Be Versatile.
Flexibility and agility are essential for every organization, but especially for companies in the garment sector. If your ERP software does not enable you to adjust your order quantity at the last minute, you will be unable to achieve a tight deadline. Your ERP system should enable you to react rapidly to market developments as well as unforeseen consumer needs and promotions. It should also allow you to easily tell key stakeholders about any modifications and retain a record of any changes made.
Conclusion
Finally, it is critical to recognize that having the correct technical tools is the key to a successful garment business. We hope this Blog has helped you understand what garment ERP software can achieve for your textile firm. We recognize that selecting the correct software is difficult, but we have done our best to make it easier for you by providing some guidance on what to look for while making this decision.