Restaurant POS Software: Key Features To Benefit Your Business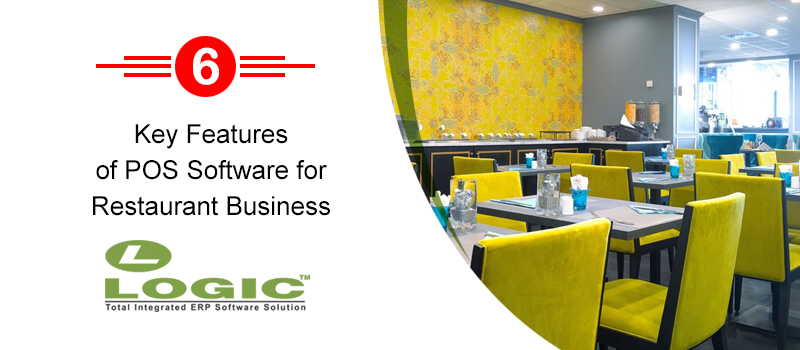 POS or Point Of Sale, a software used throughout the retail and restaurant business. It allows the business owners to keep track of the cash flow, sales, manage food inventory and simplify bookkeeping. A restaurant POS software is a key asset to manage the high volume of credit cards and cash that passes through a restaurant every day.
Not only Point Of Sale system can keep track of every penny of the sales, but can also act as a credit card processors. It makes credit card swiping more secure for both, the business and customer. Every sale and transaction pass through the servers, and no one can alter checks in the computer without the password. This can help you prevent employee theft.
If you are wondering that what other features and benefits you will get from a Point Of Sale software, then we can guide you into it. Here are some of the key features that will benefit your business after installing a restaurant POS system:
POS Touch Screen
One of the important necessity for a restaurant is to have a POS with touch screen enabled. Your billing process will be faster and employees can manage reservations, take to-go orders, and view empty tables right on the hand-held device screen. With just a touch of your fingers, you can control every process in your restaurant, making them more quickly and efficiently.
Managing Multiple Stores
If you run multiple branches of your restaurants including central branch, then this feature is definitely for you. Your POS system should allow you to centrally control and monitor every operation of all your restaurants and kitchens in a real-time environment. With a multi-store management feature, you can take appropriate actions with a web access to all stores.
Recipe & Inventory Management
Gain more accuracy in your restaurant kitchen. Recipe management will help you map your delicious dishes to their ingredients and maintain consistency in the taste. With inventory management, you can manage prices and calculate the production cost involved.
Customer Loyalty & Customer Relationship Management
People love the discount offers, food vouchers and coupons on their favorite dishes. You can attract more foodies to your restaurant by realizing coupons, promotional SMS, personalized offers for regulars, food vouchers, happy hour offers, and much more. You can manage all these operations with a reliable POS software solution. Well, special schemes, packages and promotions are the best way to ensure customer's loyalty.
Reports Generation
Not only your POS system can track inventory, sales and cash, but it should also keep track of average sales per employee, popular menu items, employee productivity, and the rate at which orders served from the time of placing it. The reports also include the data on how many customers got served on a daily and hourly basis. If you have restaurants at more than one location, then you can change menu items and prices with a scalable POS system.
Integration
A POS system with a feature to integrate multiple food ordering portals makes a great addition to ease the restaurant processes. You can easily track customer's orders status, manage price differences and deliver them in accordance with your customer's tastes. It makes the order taking management much easier for the restaurant staff.
A secure and flexible restaurant management system help you reduce paperwork, and better management of time. The customer handling will be more efficient with an easy-to-use process. All the information will get collected into one central database, from where you can access any information, control damage and run your business smoothly.
If you are looking for a best restaurant POS software solution , make sure to check out LOGIC ERP. You can select us to help you grow your business to new heights in a culinary world.