Using Advanced Reporting to manage your Restaurant Profits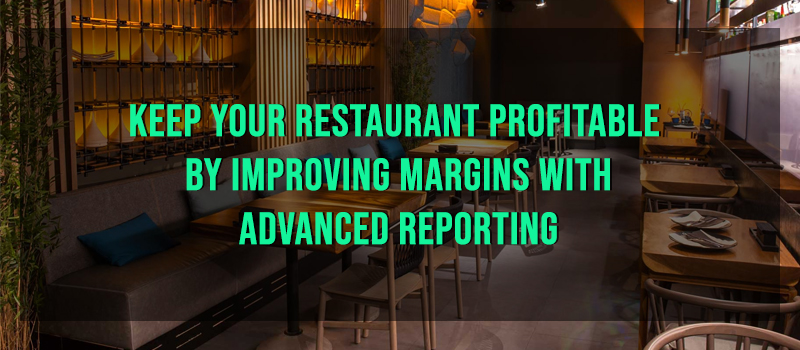 Collecting and analyzing inventory, sales and employee data enables you to save on needless costs, maximize your money spend, and return higher profit margins. You can save a lot of time by using restaurant management software to synthesize the data.
Improving the profit share in the volatile restaurant business is a tedious task. In a highly saturated market, if you know how to balance overhead food and labor costs, price menu items, and draw customer attention can convert a just scraping by restaurant into a successful eatery. With the help of advanced restaurant reporting tools, you can easily make financial decisions for your business.
You can uncover more effective ways of restaurant management by collecting day-to-day data of your business operations. It will help you to find techniques to improve the profit margins of your restaurant. Following are some of the important restaurant reports that you need to run regularly to increase your profit margins:
Inventory Reports
Inventory management and meeting customer demand are challenging tasks. Approximately 10-15% of the food gets wasted before it even reaches the customer's plate. It means that the amount spent in preparing that plate is not fully evaluated to its potential. Inventory reports give you the precise details of the food ingredients left in the stock, the amount of leftover stuff at the end-of-the-week, and what food leaves the kitchen to the customer table. With this data, you will know what to order more of, where to cut back, how to prevent food wastage and save money. Nowadays, the restaurant billing software can be directly integrated with the inventory to keep its level in check.
Sales Reports
One of the life forces of a restaurant is sales. When your sales are high, you can purchase better equipment for your restaurant, provide better customer service, hire new experienced staff, and improve your savings. Restaurant sales report enables you to track:
Average table turnaround times
Total per day sales
Best and worst selling items
No. of discounts offered, etc.
This information enables you to make better decisions about how to improve customer experience, effectively promote business, categorize menu items, and keep the cash flow coming.
Employee Reports
The workforce is the largest cost for restaurants, meaning that managing employees efficiently can pay off big time. Employee reports enable you to see:
Which employees were late at work?
Employees having best table turnaround times
Who has the highest average sales?
Total no. of days employees present at work, etc.
By using such data, you can discover and reward the deserving employees to boost-up their moral, thus keeping the workforce motivated and happy.
Nowadays, restaurant software comprises of different types of reporting templates. It offers a win-win situation for everyone. Your customers will be happy when their favorite item is in stock. You can also promote employee scheduling to manage the working hours of your employees. Doing so, you can save more money to invest in your business to facilitate growth.
LOGIC restaurant POS software is a customizable and highly adaptive software solution that can help you to run a profitable restaurant. Collecting and analyzing the data can be a tiresome task but as a busy restaurateur, it will be valuable as money.