7 Reasons to Choose Restaurant Management Software in 2020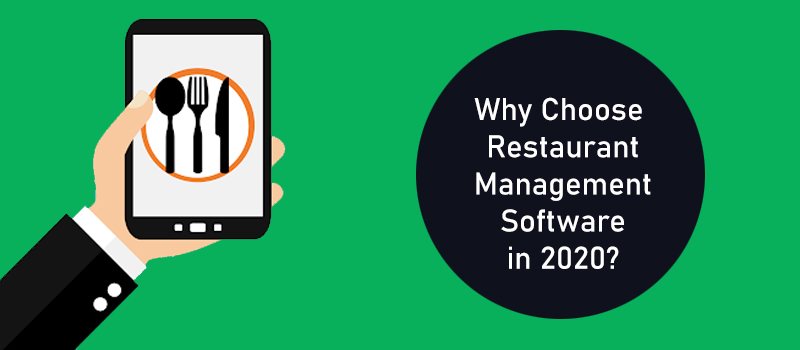 In the past few years, the restaurant software industry has shown a drastic increase in the utilization of restaurant management software systems. There's no surprise in it, as these systems are helping restaurant owners to take down the restaurant failure rate. Restaurant Software companies are also trying their hardest to improve different aspects of the restaurant business, such as:
Back-office analytics,
Guest experience,
Front-desk operations,
Kitchen operations, etc.
Having a central piece of technology that integrates every operation under one platform can save the trouble of deploying separate systems, which can't even communicate with each other and require manual supervision. Restaurant POS software is the best example of such technology.
Some restaurants use multiple software or tools to improve their operations, or they completely avoid using any. Both options can have a negative impact on your business. You should choose your restaurant software based on the concept and the goals you want to achieve from your business. To help you in selecting the best software system for your restaurant, we have piled-up some of the important aspects you should look for in the software:
Business Intelligence to Manage Prime Costs
You should be able to manage the prime costs of your restaurant through labor, sales, accounting, and inventory intelligence. It's like a back-office solution that can assist you to improve the bottom line of your restaurants with analytics.
Table Reservation, Ordering & Mobile Payment
Your employees should be able to take orders from the guests at the table and pay the check without talking to a server. The system must be able to integrate with the kitchen management solution. That way your waiters can send orders directly to the restaurant kitchen. Nowadays, the systems are also capable of making mobile payments, allowing guests to view, open, and pay the billing amount via their mobile phone.
Managing Accounts
Having a secure, fast, and a digital way to manage accounting and finances are the basic necessities that every restaurant should have. Your accounting team has to manage various things like transaction details, customer data, sales, purchases, etc. Having a system that provides a clear understanding of your business performance by providing you detailed reporting can be advantageous for your restaurant.
Data Security with Cloud technology
Nowadays, cloud-based software is in the trend. It enables businesses to access, edit, retrieve, and manage the data from anywhere and at any time. It is also a good measure in case you lose the data from your computer system. You can easily retrieve it if it's stored in cloud storage.
Digital POS displays
The touch screen POS system is very important to decrease the waiting time at the billing counter. By integrating it with your inventory, you get the complete picture regarding whether the ingredients are available to complete an order or not. In addition, it would make easier for your staff to access the system with their fingers.
Run Customer Loyalty Programs
Restaurant POS systems come with integrated gift and loyalty systems on which you can run the discount schemes according to your agenda. You can gather the viewpoints of your customers via a feedback system and use that data for loyalty programs and gift cards.
Inventory & Purchase
Restaurant software can help you to manage inventory levels, sales/purchase, food and bar costs, etc. You get real-time updates regarding updates on your inventory from ordering to depletion. You can create the most popular and profitable menu when you have tools such as production planning, daily prep, and ability to track wastage.
LOGIC Restaurant Software for your Restaurant's Future
When you are deciding to implement restaurant management software, make sure that the company who's going to partner with you improve lower costs and restaurant operations. LOGIC provides both, on-premises and cloud restaurant software service to improve the bottom line of your business. With our integrated and customizable platform, you can make your restaurant operations much simpler.