Why Use Restaurant POS Software In 2021?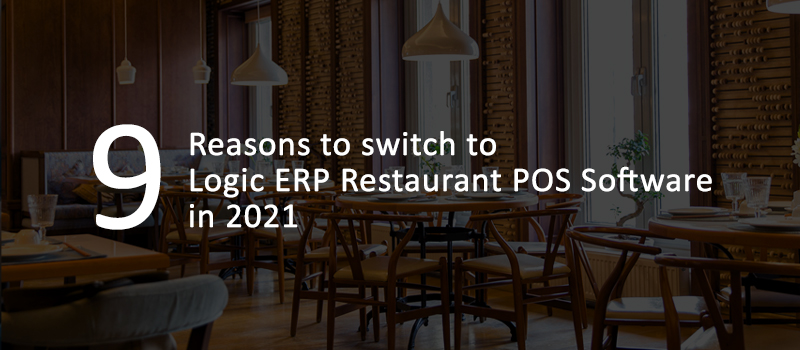 When the COVID-19 pandemic hit the whole world, one of the industries that faced severe impact was the restaurant business. Since then, the restaurant industry went through various changes to counter such situations (if struck again in the future). The consumer's needs also evolved, and business owners have to change their traditional practices to meet the customer's expectations while managing every operation flawlessly. And believe it or not, cloud-based ERP practices played a crucial role in such aspects. Logic ERP with its touchless POS system helped restaurant business owners in making their processes faster, simpler, and easier. Following are the top 9 reasons that why you should switch to Logic ERP touchless POS system to improve your business efficiency:
Multi-Payment Modes & Wallet Integration
The next-gen POS system by Logic ERP gives you the flexibility to offer multi-payment options to your customers. With this, the consumers can pay via credit/debit cards, cash, UPI, etc. Furthermore, with the Paytm EDC device and wallet integration, you can make the payment process much faster. The online payment industry is growing at a rapid pace and is a great way to improve your customer base in 2021 and upcoming years.
Real-Time Inventory Tracking
One should have a clear understanding of its inventory-level if he/she wants to expand his/her business further. Remember, your inventory is the core of your restaurant business. Food cost management is crucial to reap profit in this business. With our POS system, you can better track inventory-levels in real-time with a daily usage pattern and product movement data. It will prevent food wastage, dead-stock, out-of-stock, and make sure that the raw material gets stocked on time.
Reduce in Waiting Time
In some restaurants, the customers can order from their table, while in some, they have to go to the counter to order the food (which is time-consuming). Customers can even place orders from separate areas. The whole process needs a proper synchronization between multiple counters, or else, waiters might cause a blunder by serving wrong orders. Logic ERP's mobile POS system makes order processing faster, assures timely food delivery, and strengthens table management. By streamlining information flow between waiters and restaurant kitchens, the waiting time will reduce, and you can serve more guests at a time.
Run Loyalty Programs
To retain guests, increase clientele, improve sales, running discount offers or loyalty programs is the best option. Our touchless POS software allows you to run multiple loyalty programs, capture customer data in real-time, add discounts on bills, and enable monitoring and redeeming of loyalty points.
Control over Manual Errors
When a customer gets satisfied with your restaurant service, they might recommend it to their acquaintances. So, to increase your restaurant sales and profit margin, you have to make sure that all orders get prepared and served accurately to the customers. Handwritten orders may cause a communication error between waiters and kitchen staff. That's why using an integrated POS system is a necessity nowadays as it reduces the chance of manual errors.
Advanced Data Security
The Logic ERP cloud-based software system offers you advanced data security to protect the data from breaches and loss. You can even set parameters for user-specific restricted access. Also, it will ensure the seamless flow and access to department-wise information. With our cloud-based system, you can hold all your restaurant data on a remote server, which you can access from anywhere, anytime.
Customizable POS System
The fully customizable POS system by Logic ERP offers numerous features based on the user requirements. The industry-specific modules can be added to the software and dashboard to make it perform better. It can be integrated with inventory, billing, ordering screen, etc., such that you take control of all the operations, even from remote locations.
Reporting & Analytics
Generating detailed reports and analytics on a regular interval is an important task to get a clear understanding of business performance. It will allow you to keep tabs of the stock, sales, purchase, credit, inventory, least/most selling items, etc., to determine the profit or loss share in a particular interval of time. By having such data, you can make better decisions to improve your business work model even further. Logic ERP offers mobile reporting & analytics features to enable you to keep tabs on your business performance from anywhere, anytime.
Customer Relationship Management
A Point of Sale system can help you in increasing customer satisfaction level and improving the dining experience. By reducing wait time, providing multi-payment options, online transactions, etc., you can retain and expand your consumer base. Remember, a quick and better service is the key to flourishing your business.
To successfully run a restaurant business in 2021, you need to have a POS system installed on your premises. The touch/mobile POS by Logic ERP offers a wide range of benefits as soon as you implement it.