Future of Point of Sale Technologies in Retail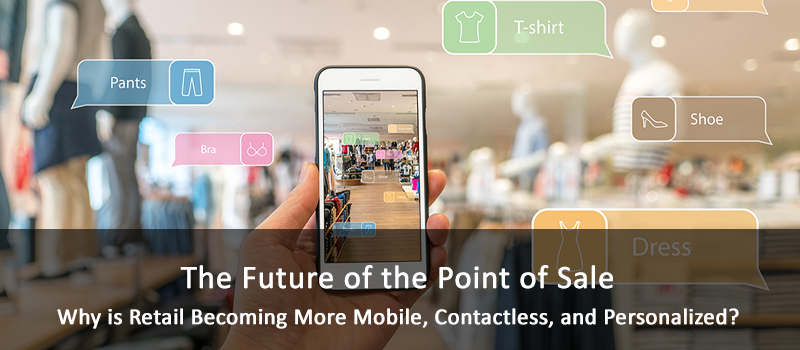 It would be an understatement to say that the digital revolution is one of the most important retail disruptors since the introduction of credit cards in the 1950s. POS systems, including credit card machines, have become an essential tool for every new brick-and-mortar retail venue. A POS software is at the heart of it all, from consumers seeking a more personalized experience to companies relying on data to make better business decisions. It's the point at which business theory and real-time business transactions collide, and it's where all the action takes place.
5 Key POS Trends for Future
As a merchant, it's important to keep up to date with the new POS technology developments in order to stay ahead of the competition. Here are five point-of-sale developments to keep an eye out for in the near future.
Increased Use of Mobile Payments and Tablet POS
With the digital era and emerging technologies, cash and cash registers are rapidly becoming obsolete and systems like mobile POS are gaining popularity. Credit, debit, and prepaid cards, as well as contactless payments and transactions made through electronic applications, provide shoppers with more choices than ever before. Cashless payments provide merchants with speed, convenience, and assured payment, as well as protection and accountability for both customers and merchants. In reality, 73 percent of shoppers claim they use less cash than in the past, and eight out of every ten customers worldwide use a tablet, smartphone, computer, or any other type of digital technology when shopping. Mobile payments from smartphones are enabled by tech giants such as Google, Apple, and Samsung, providing customers with a more convenient way to pay — and retailers should take notice, as this is the new wave of the future.
Rising Adoption of Cloud Technologies
In today's digital world, it's important for retailers to have easy access to their store purchases or sales data from their mobile, tablet, or laptop, no matter where they are. This is where cloud technology comes in, because, with cloud-based solutions, the POS applications, facilities, and data are delivered to the user on-demand from the service provider's servers. The greatest benefit of a cloud-based POS system is that it allows retailers to do everything from quickly accessing their data to updating their apps in all of their locations at the same time. Multiple stores can be upgraded and updated in a matter of minutes, making it easier for retailers to do business. Furthermore, since cloud-based POS solutions are delivered as a service, the provider can build and release new features more quickly than with a client-server POS.
Personalized Customer Experience
The proper and timely use of technology to strengthen consumer relationships and boost the consistency of the customer experience — all while streamlining your retail establishment's everyday operations — is a vital factor for success in today's highly competitive business environment. Personalization is important, as 79 percent of consumers say they will only engage with a company if promotional offers are tailored to how they have previously interacted with the brand, and 91 percent of consumers say they prefer to shop with companies that are aware of, remember, and provide offers and recommendations that are specific to them.
The Impact of Artificial Intelligence
According to a CMO by Adobe report, artificial intelligence (AI) is already having a significant effect on the retail industry, with 15% of companies already implementing AI in their POS systems and 31% expecting to incorporate AI within a year. AI-powered POS systems can now inform companies to fulfill orders or replenish stock, warn businesses about changing consumer behavior, alert them to new product trends, suggest promotions to carry out, recommend which customers should be re-engaged, and determine sales trends. All payment experiences, real and virtual-mobile applications, chat payments, Instagram/social payments, transactions from your website, and payments in your store – can be integrated with AI when used with POS systems, resulting in a seamless omnichannel shopping experience.
POS systems are emerging to include a wealth of data and analytics that can assist retailers in making more informed, data-driven business decisions. To personalize and improve the customer experience, you must first understand who your customer is, which can be accomplished by analyzing data and analytics through your POS.
Despite the undeniable growth of online shopping, physical retail and the experience that comes with it, like walking into a store and finding new items, seeing, touching, and checking them in person, putting them on, and asking a store associate for advice – remain critical. POS systems have developed over the last decade from a single static cash register at the checkout counter to a series of useful touchpoints at the heart of the entire retail experience. Moving forward, POS technology can transition from a transactional to a consumer-empowering position, allowing customers to shop whenever and wherever they want.