How can a Company Become Intelligent and Sustainable with the help of Cloud-Based ERP?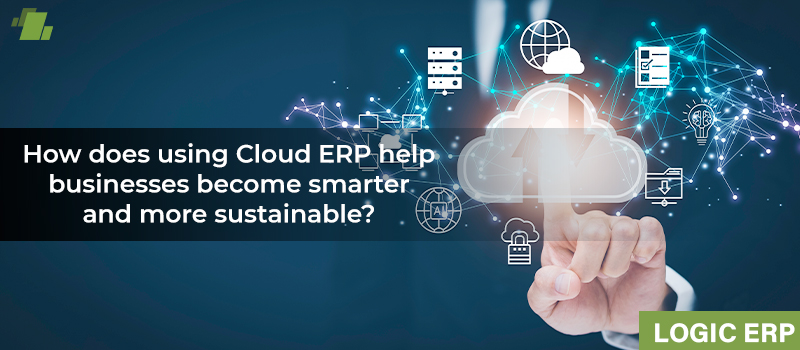 Companies were obliged to reevaluate their plans and change the direction of their operations as a result of the COVID-19 epidemic, particularly those in the mid-market group. Some of these tactics that surfaced during the lockdown turned out to be essential to the operation of businesses. Companies relied on technology to help staff stay engaged and utilize tools and data as they transitioned to a hybrid model. The customer's side of the tale was the same. We are currently dealing with a new generation of clients that demand quicker product and service delivery, continuous product and service improvement, more reliability, and cheaper prices.
Businesses require software to manage their increasingly complicated internal procedures as well as global business networks in order to serve this expanding consumer base. Cloud ERP is among the most trusted solutions. Let's get to know more about this from the blog by LOGIC ERP.
Rising Cloud-based ERP
Enterprise Resource Planning is being moved by businesses to the cloud in order to take advantage of these advantages. The main objective of cloud ERP software is to bring together all the different parts of a corporate operation onto a single platform. For all of the fundamental operations of an organization, it offers cutting-edge capability. Modern cloud ERP systems enhance operations, support modifications to outmoded business models and procedures, and add new capabilities that promote best practices in the workplace. It has a wealth of cutting-edge capabilities and versatility that make it indispensable in today's digital environment.
This transition has occurred for a number of reasons, including the fact that expanding firms have established a standard set of ERP software needs to improve their ability to compete, boost revenue, and improve their agility and resilience. According to the IDC report, these criteria include a stronger emphasis on ecosystems, better user experiences, increased collaboration for agility, and a demand for more stringent process controls, among others. Cloud ERP delivers savings, quick adaptable deployments, ease and automation, new features, greater insights, safe mobile device compatibility, access to cutting-edge solutions, deeper security, and scalability, allowing businesses to concentrate on ongoing business innovation. Businesses that use cloud ERP speed up the process of digital transformation because they have direct access to solutions that can effectively and agilely drive change.
Favor for the Midmarket Sector
Cloud ERP helps the mid-market segment innovate continuously by automating processes, gaining visibility using AI/ML, and so on. the software's quick rise in popularity among India's mid-market segment can be attributed in part to:
It's critical to avoid relying on antiquated, rigid processes if you want your business to expand. Cloud ERP conforms with accounting rules and regulations, facilitates virtual workforce management and cooperation, promotes quick response times, and provides all organizational departments with a unified and accurate view of the business.
Transparency into cash flow
Cloud ERP combines internal and external business operations with accounting procedures so that everything can be accurately recorded.
Application integration simplicity
Midsize businesses have fallen behind in the effort to modernize their basic ERP. Adding new solutions might be costly and complicated because not all products interact with their ERP of choice. Integration is simple, scalable, and agile with a modern cloud ERP.
Conclusion
LOGIC ERP is a cloud based ERP system. To not simply survive, but to grow, most businesses must migrate to the cloud. It offers quicker workflows, richer data, and quick returns on investment. These days, smart businesses are the ones that are maximizing ecosystem changes and remaining on top of the game. It will also not be wrong to state that cloud ERP would change the game for many.