Make Your Grocery Store Contactless Retail Ready with Scan-and-Go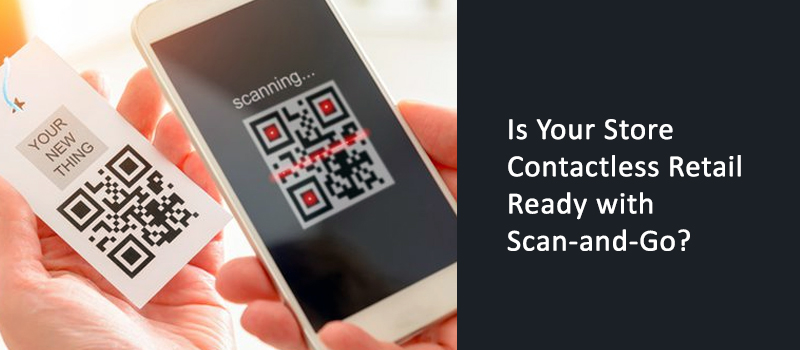 2020 is about to end. We witnessed a lot of changes in the retail, distribution, and manufacturing sector, especially after the COVID-19 hit hard on the global scale. It was enough to change the grocery store experience for both, shopper and grocer. Many shoppers who used to go grocery shopping every few days suddenly started panicking from going outside at all.
Well, their fear is not meaningless. Going to a supermarket involves looking, touching various items (even if we don't buy them at all), talking to employees for product inquiries, making payment, etc. Sometimes we even have to stand in long queues where people end-up touching each other.
Named as a traditional means of shopping, people started to become uncomfortable with it and in no time, the online grocery shopping model was introduced. Later on, contactless payment, touchless POS, self-scanning, and scan-and-go payment structures were introduced. Since then, shoppers begin to experience the benefits of contactless grocery delivery and payment.
This is why contactless retail is the reason for grocery or supermarket store owners to deploy online ordering apps and scan-and-go services. "If your customers can't come to your store, take your store to them," – that's what Aaptak App and multi-payment mode feature by Logic ERP focus on. Retailers can assure their customer's and employees' safety by offering contactless shopping options with minimum human interaction.
FAST & EASY SHOPPING
Even before the pandemic, major supermarkets, and retail chains were already using online ordering and delivery services, which were welcomed by shoppers as well. But if we talk about local retailers, or small-medium scale grocery store owners, they were still focused on traditional ways of running a business.
For the small-medium retail store owners, they need to understand that customers' engagement is much higher with services that they get on smartphones. Whether it's shopping or making payment, if these tasks can be handled on a smartphone, they would probably avoid going outside. According to Global Market Insights, the global self-checkout market will surpass $4 billion by 2024, which might double post-COVID-19.
With the right software and computer setup, you can convert your smart device into a powerful barcode scanner. Retailers use the technology for item barcode scanning to let their shoppers know whether the item is available in stock or not. You can even install a QR code scanner to enable shoppers to pay online via UPI, or wallet payment.
LESS WAITING TIME, MORE SPACE, GENERATE MORE REVENUE
You will agree with the fact that no one likes to wait. Since the COVID-19 outbreak started, every retailer had to focus on reducing the waiting time of the customer. The long queues would result in lost revenue, either due to lower throughput of customers or customer going to another store. With a touchless POS and payment mechanism, you can reduce the time each customer spends in the store when they are shopping. You can also provide your employees with handheld devices to speed up the process.
Using traditional dedicated scanning machines is no longer an option. They are a bulky and extra burden for retailers. That's why retailers are moving towards modern POS solutions that provide more space on counters.
IMPROVE CUSTOMER BASE
One of the simplest ways to increase or retain more customers is by managing their history, which is now more simple and easy due to the Logic ERP cloud. As the retail sector is a data-driven industry, having cloud ERP software is more beneficial than using a traditional software solution. Tracking app data, key performance indicators, check out wait times, revenues, customer feedback, etc. – all are captured, stored, and maintained at a single location.
Logic ERP with its new features like Advanced Stock Replenishment, Paytm EDC integration, QR scanning, Aaptak e-Bills, Business App, Online Ordering App, etc. is transforming the way of doing business. Now it's up to you to decide whether you want to jump into the wagon of digital transformation or rely on the traditional and expensive means.