Managing Kirana Store Business With Logic ERP Software Solution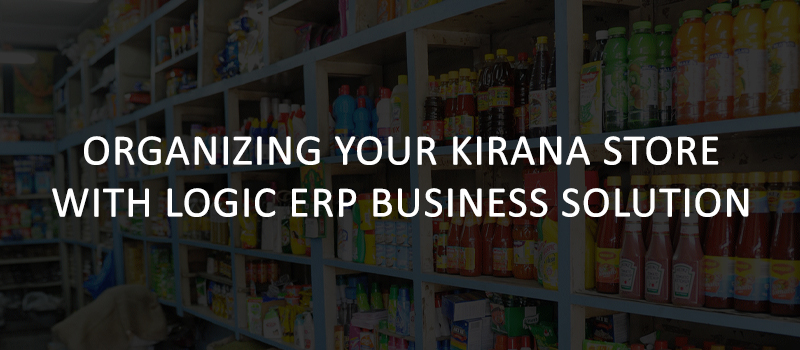 The majority of grocery and food consumption in India depends upon approximately 15 million Kirana or small retail stores. Although the system was working fine, ever since the COVID-19 outbreak started, the store operators faced various challenges. These include:
Scheduling online ordering & delivery of items,

Frequent stock-outs,

Dealing with traders & distributors,

Transforming to digital business practices, etc.
That's when Logic ERP decided to take on these challenges and design a reliable solution that could help grocery & Kirana store owners grow during and post COVID-19 era. The aim was to improve the economic outcomes for Kirana owners and manufacturers, eliminate information asymmetry, enable small retailers to sell online, aggregate the unavailable supply and demand data etc.
And to make this possible, Logic ERP made a major improvement in its cloud and mobile POS applications, along with launching AapTak Mobile App to enable grocery & Kirana store owners to take their business online. The company also added an auto stock replenishment module so that you can prevent the under-stock issues and manage inventory more precisely.
MAKING A STAND DURING THE CRISIS
When everyone was panicking and looking for ways to provide a safe grocery shopping experience to the customers, Logic ERP came up with the idea of introducing touchless POS, contactless payments, and a mobile app to facilitate online ordering of essential items. Kirana or supermarket store owners needed a medium to manage their business from anywhere, anytime. The best way to address this issue was to shift the current business model to the cloud. Logic ERP cloud proved to be the best medium for that, which is going to be the future of the retail business.
The next thing that the company came up with was introducing the Aaptak mobile app. It enabled grocery and Kirana store owners to sell the essential items online during the COVID-19 crises. As a result, now people are preferring to order online, compared to in-store shopping. Not only that, it's a great way to promote contactless shopping and payment mechanisms. Also, the trend of online retail will undergo a huge transformation in the upcoming years.
Aaptak app opened a pathway for local Kirana, Grocery, and Supermarket store owners to expand their business and consumer base. Logic ERP also introduced touchless POS and added multiple payment modules to help retailers conduct safer shopping practices.
We believe that technology is the key to business profitability. By choosing Logic ERP cloud or on-premises software, you can assure yourself with better business management, resulting in improved sales, better customer retention, stock management, and much more. Moreover, you have the choice to customize the ERP software based on your business requirements.