Warehouse Management Software in Wholesale Distribution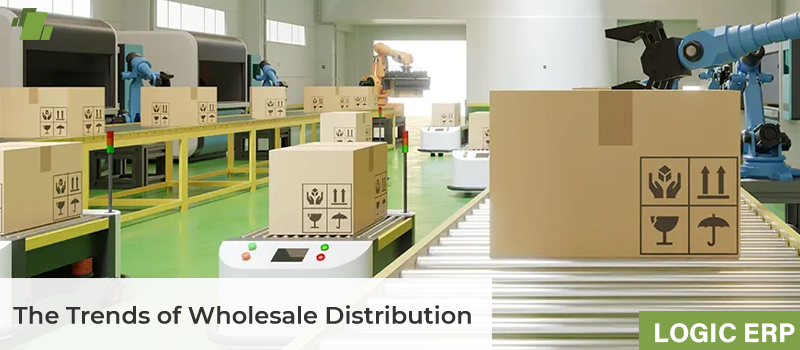 Each year, it gets more difficult to anticipate future wholesale distribution patterns. The business environment is always changing and impacted by external forces. It is challenging, but not impossible. There are a few broad themes that wholesalers and distributors should plan for shortly:
Data-Informed Decision-Making

eCommerce's Continued Growth

Increased Digital Transformation

Sustainability

Superior Customer Service

Warehouse Management Software
Decision-Making Based on Data
Wholesalers and distributors may utilize reporting and analytics data to make educated and strategic decisions regarding inventory, pricing, and other elements of their business to remain competitive in such a fast-paced industry. Automated reporting may also help a firm compete better and enhance customer loyalty; two instances follow.
If a regular client hasn't placed their typical bi-weekly order, have your system send you an email so you can follow up. This simple email might help you keep your clients loyal by providing them with a tailored and relevant experience.

View a comprehensive dead stock analysis to determine which goods should be eliminated. This report can help you plan for the future and perhaps grow your product line by assembling kits from dead stock.
The Continuing Rise of eCommerce
Wholesalers and Distributors who can offer B2B and/or B2C online ordering will stay competitive in the next years. Distribution Software and Online channels, particularly when selling through several channels, allow businesses to make orders at any time of day and from any location in the world. When your eCommerce channels are linked to your back-end system, salespeople and customers may see real-time inventory levels. Having Warehouse Software System is critical for being well-positioned to satisfy the rising demand.
Increased Digital Transformation
Automation has been advancing rapidly, and this trend is projected to continue. Businesses may prepare for a digital transformation by creating a digitalization plan that involves investments in the appropriate technology. Cloud computing and other new technologies may fall within this category. Collaborating in innovative ways with partners, customers, and workers helps to build strong bonds that firms may use to navigate the hurdles of a digital transition. Companies must be nimble and adapt to change fast with little impact on company operations to remain competitive.
Sustainability
Consumers, corporations, and governments are putting growing pressure on companies to minimize their carbon footprint and enhance their sustainability. Wholesalers can expect this tendency to continue and should consider incorporating sustainability into their business plans. Reduce your company's energy use, reduce trash, and encourage employees to walk, cycle, carpool, or take public transit to work as some strategies to become more sustainable.
Sustainable sourcing is another approach for implementing sustainability into your company plan. You choose where you buy your items, and you may conduct research to identify suppliers and vendors who utilize recycled materials or follow an ecologically friendly manufacturing procedure.
Superior Customer Service
There is competition everywhere. With the ease of internet buying, consumers have options, and businesses must prioritize customer experience and loyalty. I'd want to share two figures with you, one from the consumer side and one from the company side.
73% of organizations with above-average customer service outperform their competitors financially.

Customer service is vital to 96% of customers when it comes to brand loyalty.
These two figures demonstrate that a better customer experience impacts both consumer loyalty and revenue. Consumers want products and experiences that are suited to their requirements and tastes, thus wholesalers that can provide personalized and customizable items and services will have a competitive edge.
Warehouse Management Software
While technology is only one element of the problem, if used appropriately, it may significantly boost a wholesale firm.
Warehouse Management System is one such system that is becoming increasingly popular among businesses that operate a warehouse or warehouses – that is, a specialized technological platform that helps track and optimize inventory, with capabilities such as:
Tracking of batches and serial numbers.

Kitts and bundles can be assembled automatically.

Visibility over sales charges and other financials.

Centralized supplier information Cloud-based infrastructure, allowing the software to be accessible at any time, from any location, and on any device.
Conclusion
LOGIC ERP ensures a smooth procurement process from beginning to end. They also use systems to measure, understand, and analyze every consumer touchpoint with their businesses to maximize customer experience. Wholesale distributors already made enormous advances in adopting technology to help them overcome hardship. They can not only survive but prosper in the following year and beyond if they maintain their pace.